And I say 'experience' in the nicest possible way !
I went to Nairobi full of preconceptions about the city, and I was proved completely wrong. I actually loved it, and whilst it will never ever be a holiday highlight of your trip to Kenya (well, given that it is competing against fabulous wildlife and stunning beach destinations, I think that is acceptable !), there is no need to be scared about spending one or even 2 nights here at the start of your holiday, to recover from any lack of sleep from an overnight flight so that you are refreshed and ready for the early mornings that are required for a safari !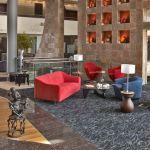 I stayed for one night at Tribe, which is in a pleasant green suburb across town from the Jomo Kenyatta International Airport. I hit morning rush hour traffic when I arrived (I landed at 6.30 am, so by the time I cleared Customs and Immigration it was nearly 8 am when I emerged into the Nairobi sunshine) – and rush hour traffic in Nairobi is pure bedlam. We sat in a stationary traffic jam, and it took over an hour to reach the hotel. There seems to be no rules on the road – if you see a gap, you drive straight for it, regardless of whether you are cutting anyone up or not. It made for an exciting transfer, anyway.
Tribe itself is the epitomy of 'urban chic' – it is a large, new hotel, situated right opposite a small parade of shops and restaurants, so ideal if you wanted a quick shopping fix. When you approach the hotel from the road, it looks a bit daunting – it is a mass of brown concrete, and you may wonder what on earth you have booked … but once you enter the reception area, you forget all this, and you immediately get a great vibe from the hotel.
My room was very spacious – a large kingsize bed with crisp white linen awaits you, and a desk in case you need to write a postcard as soon as you arrive, and an open bathroom with a freestanding oval bath, double basins, and a separate closed off walk in shower and toilet.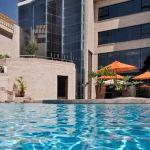 The swimming pool is beautiful – during the day, there is a pool bar, and at night, it is all beautifully lit – really stunning. The bar is elegant and trendy, and the restaurant food was extremely good.
The staff were friendly throughout – the check in went smoothly, the check out equally so, even the bar staff and restaurant staff had a laugh and a joke with you.
I was only here one night, but I would definately come back again.
Comments Off

on My Trip to Kenya – My Nairobi Experience