The wonderful Wolwedans Dune Camp, in Namibia's Sossusvleu, has just announced that they have upgraded 6 of their tents (and I say tents with my tongue in my cheek – I should rather say palatial suites – they are stunning!).
The new tents are larger, with private bathrooms and a bigger deck area outside.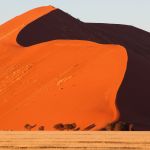 Wolwedans provides the perfect base from which to explore vast stretches of undisturbed nature. The personal and informative scenic drives in open Land Rovers reveal the wonders of the wilderness.
Scenic flights are another popular activity at Wolwedans. Commencing during the late afternoon, these flights give you a birds-eye view of the Diamond Coast and Sossusvlei and is a truly exhilarating and once-in-a-lifetime experience.
Another special attraction is hot-air ballooning. Soaring silently over the dune belts and never-ending plains provides unforgettable and breathtaking 360 degree vistas. From the best viewpoint imaginable, you admire the stark beauty of the Namib for about an hour, before celebrating this once in a lifetime experience with a champagne breakfast at the landing spot.
There is a minimum stay of 2 nights at the camp.
Comments Off

on Stunning New Accommodation in the Desert