The privately owned Lion Sands Private Game Reserve has been in the More family for 4 generations. The land is 4,000 hectares in size, and guests who have stayed at Lion Sands River Lodge, Lion Sands Ivory Lodge and Lion Sands 1933 have been able to enjoy uninterrupted game drives on this land, as only guests staying at these 3 lodges were allowed to drive on the land.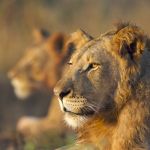 The exciting news is that from 1st October, guests can now also drive on the neighbouring Kirkman's Kamp Reserve. This will allow game drives to cover a massive 7,000 hectares, and most importantly, will allow guests the ability to experience both the Sabie and Sand River ecosystems on one game drive.
Bot the Lion Sands Private Game Reserve and Kirkman's Kam Reserve form part of the southern portion of the 65,000 hectare Sabi Sand Game Reserve, an area well known for its spectacular game viewing.
Comments Off

on Lion Sands to Traverse More Land