The Battlefields of KwaZulu-Natal offer an incredible insight into the history of South Africa, and the best way to really appreciate this bloody and fiercely-fought history is to go on one of the mesmerising and theatrical tours of the key areas, which bring to life the incredible stories of events that happened only 100 years ago. No matter how uninterested you think you are in history, these tours will captivate and move you.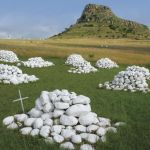 The Battle of Isandlwana saw a 20,000 strong Zulu army, armed only with spears and shields, wipe out a heavily armoured British Army contingent of 1,774 men on the morning of 22 January 1879.
The Battle of Rorke's Drift started immediately after the British Army had been defeated at the Battle of Isandlwana, and continued into Thursday 23rd January. It is the story of when some 150 soldiers defended a supply station against approximately 4,000 Zulu warriors. Over 11 Victoria Crosses were awarded to the defenders, along with a number of other decorations and honours.
Fugitives Drift Lodge in the heart of the KwaZulu-Natal Battlefields is one of the outstanding destinations in South Africa, and their highly recommended Battlefield tours include visits to both Isandlwana and Rorke's Drift. The tours will truly move you to tears and stay in your memory forever
For any singleton wanting to visit the Battlefields between now and 10th December, to experience one of these superb tours firsthand, there are no single supplements being charged for a stay here or the neighbouring Fugitives Drift Guest House.
Comments Off

on Singletons – Welcome to the Battlefields