We stayed at Kapama Game Reserve back in February – apologies for taking so long to write the review !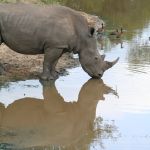 Firstly, I was incredibly impressed with the main entrance gate. As you approach from the R40, your first impressions are immediately elevated … compared to some reserves, in my opinion the main gate is very imposing and impressive !
We were staying at Kapama River Lodge for our first night. We pulled up outside, and immediately the word 'LARGE' crossed my mind … then the word 'BUSY' jostled 'LARGE' immediately out of my mind as we walked into the main entrance hall … there were people EVERYWHERE !!!! This was explained very shortly afterwards as we were taken on a quick tour around the lodge, sorry, I meant hotel … because this is what it is – a 63 bedroomed, 3 storey hotel in the bush.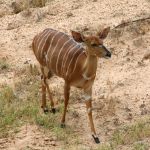 Don't get me wrong. The rooms are immaculate, and beautifully decorated and equipped with comfy beds, large bathrooms with his / her vanity units, a large walk in shower and a bath with a view out over the bush. Each room has a balcony with a table and chairs, and I sat out on it for just half an hour and took some great photos of a female nyala who just walked past our balcony without a care in the world.
And the spa … well, it is probably the nicest spa I have ever seen. I believe it is rated in the Top 5 spas in SA, and it is easy to see why. Treatment rooms overlooking the bush and a waterhole, a rim flow pool … it is a pure sanctuary.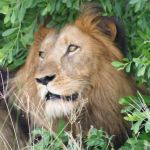 However, because the lodge / hotel is so large, it is one of only a small handful of places that can accommodate large tour groups. For couples travelling on their own, therefore, I have to be honest and say it can be a bit intimidating … the main pool area was full of people shouting across to each other and I really was not inclined to venture amongst them on my ownsome lonesome and put my towel down (not that there was a spare sun lounger anyway !!).
We all congregated at just before 4 pm for afternoon tea / coffee before heading out on the game drive – and I have to admit, there was a good spread of both savoury and sweet snacks to stave off any hunger – I was a bit worried that the sheer number of people that they had to cater for would affect the quality of the food, but actually it didn't have any impact at all – all the food we had, including the dinner later and breakfast the next day, was delicious !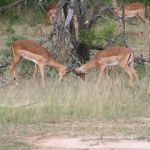 The game drive departure was a mass exodus of vehicles, and there were 10 in total on our vehicle, so 3 per seat row and one upfront with the ranger, but once outside the lodge gates, each vehicle peeled off on their own and pretty soon it was just our vehicle trundling down the road with no other vehicle in sight.
The game viewing was good too … on this first drive alone we tracked a leopard, saw elephant, rhino, antelope, zebra … so really can't fault the safari experience at all – for people worrying that the game viewing may not be too good given that the reserve is fenced … trust me, there is nothing to worry about at all !
We left Kapama River after our morning drive, as we had asked to move to Kapama Lodge as this is smaller.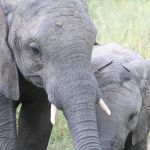 En-route to here, we stopped briefly at Kapama Buffalo Camp – for the price, it is great (from now until the World Cup, the published rates are just R1950 per person per night, including all meals and morning / afternoon game drives and complimentary transfers to / from Hoedspruit Airport). The tents are great – the pictures on their website seriously do NOT do it justice !
We also called in at Kapama Karula .. WOW !! Absolutely stunning. Chic meets the bush seamlessly. Really, I was completely gutted that we were not staying here, but they were fully booked !!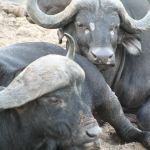 Kapama Main Lodge is actually in its own part of the reserve – you exit the reserve where River, Karula and Buffalo are, cross the road, and Main is in a 3,000 separately fenced part. I was a bit worried about the game viewing in such a small area, but honestly, it was probably better ! We saw lion, elephant, rhino, buffalo, antelope, zebra, giraffe … it was fantastic. Really could not fault it at all.
The lodge itself was lovely – superb rooms, great main guest areas, and really good food too.
To summarise … yes, I would 100% recommend the reserve and I would be confident that anyone staying here would have as good a safari experience as we did. But unless you are planning on going on safari with a large group, I would personally not recommend River Lodge, instead go for Kapama Main / Karula if you have the budget, of if you are budget conscious then you really cannot go wrong with Buffalo.
Comments Off

on Our Feedback – Kapama Game Reserve