We stayed at Billy's Lodge, in the Balule Game Reserve, for just one night in February.
Firstly, getting here … true, we stayed in Dullstroom (Critchley Hackle) the night before, so we knew we only had a relatively short drive that morning, but even so, it was less than 3 hours from here via the Strydom Tunnel (tunnel ?? … ha ha … blink and you will miss it !!), so from Jo'burg I reckon it will take about 5-6 hours only if you are driving. If you fly into Hoedspruit Airport, however, you are looking at about a 30 minute drive / road transfer.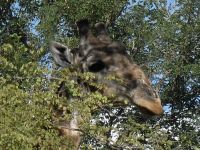 To enter the reserve cost us just R60 (although the published entrance fee is R70 – but I wasn't going to argue with them !! ), and then from the gate to the lodge was very easy … follow the road, turn left at the sign … and we were there! The road was perfectly OK to drive in a saloon car (we had a Toyoto Corolla).
Upon arrival, we parked in the shaded parking area, and were greeted by a cold drink and a face cloth. And had our first wildlife sighting … a tiny tiny bush baby, who had made its home in the thatch just above the main entrance !!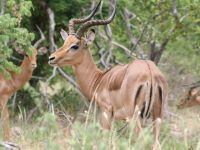 We had to wait for our room to be finished, but that was no hardship at all … we were taken out onto the wooden viewing deck where we just sat and just enjoyed the sounds of the bush. There is also another viewing platform, up high … great views but I don't like heights very much, so climbing up there and back down again via the wooden staircase was not something I particularly enjoyed !!
Lauren, the manageress, came to find us when our room was ready … what a great girl. The lodge is actually her family home (her mother, Tess, runs the Reservations Office from Johannesburg), so she has lived here all her life … lucky lucky lucky !!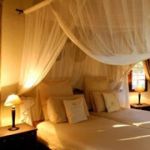 Our room was lovely – rondavel style, so round in shape, with a small tea / coffee station, a comfy bed complete with romantic mosquito net, and an en-suite bathroom with a large walk-in shower.
The lodge has just 4 rondavels in total, so a maximum of 8 guests, so it really is an 'intimate' safari experience.
And very reasonably priced … between now and the beginning of December (excluding the World Cup period), rates are just R2,140 per person per night if you book with Travel Butlers. The rate includes all meals, and morning / afternoon guided game drives.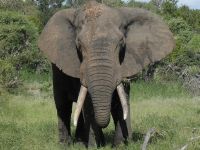 There were just 4 of us for our game drive, and we met our ranger, Jonathan, who had just joined Billy's only recently from another reserve / lodge. Again, great guy … friendly, knowledgeable, enthusiastic … all the qualities you want from your ranger really !
No sooner had we driven out of the camp, we met a giraffe, and then tracked a MASSIVE bull elephant, who later that evening reappeared back at the camp, and wandered around immediately under the viewing deck … we were able to stand VERY quietly on the walkway looking down on him … I swear we were only a few feet away.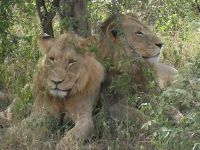 The highlight of the drive was tracking the lions tho … we tracked them this afternoon, and caught a fleeting glance of 2 lionesses just before they disappeared into the bush, but the next morning we actually tracked and found the 2 male lions of the pride, lying in the shade of a bush and who really didn't care whether we were there or not … so we got some great photos !
That is one advantage of a safari in this reserve (aside from it being 'fences down' with Kruger and also being home to Africa's Big 5) – because the reserve is also 'home' to less lodges, your ranger and tracker have to 'work' that much harder to find the animals (versus a lodge in say Sabi Sands, where you have more lodges, so therefore more vehicles out on game drives … so you can go on a drive and just wait for the sightings to be called in over the radio by the other rangers !!) … in Balule, however, you actually do some proper tracking … it is so satisfying !!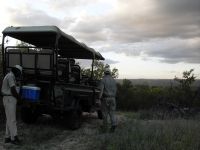 True, the vegetation is thicker than you will see in other reserves such as Sabi Sands – there are definately more bushes and trees and not so many open spaces, so the slight downside is that you won't get to see such large herds of wildlife together here. If you like birding, the birdlife is extremely good.
Oh yes, another nice touch was that when we got back from the afternoon game drive, Lauren 'hosted' a wine tasting for us all down in the wine cellar – I believe she offers this to all new arrivals, so we were not just singled out for special treatment.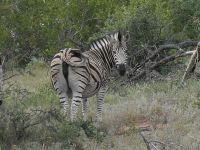 Before we left the reserve the next day, we were taken up to their other lodge, Ezulwini River, for a quick look around. Ezulwini River is much further into the reserve, so from the gate I reckon it will take about an hour to drive here through the reserve. Again, another great lodge – lovely rooms, great guest areas.
It was my first time to Balule, and I sincerely hope it will not be my last. I enjoyed it immensely, I would have NO hesitation in recommending Billy's, Ezulwini River Lodge OR the reserve to anyone, and overall, 10 out of 10 for everthing.
Comments Off

on Billy's Lodge, Balule Game Reserve