We stayed at Critchley Hackle, in Dullstroom, on 22nd February, as an overnight stop on our way from Johannesburg to the Kruger Park.
First comment … it really is in an excellent location. 2.5 hours easy drive from Johannesburg, and then the next morning it was a 2.5 hours to Kruger (we were heading towards the Balule Game Reserve, just north of Hoedspruit). For people who don't want a long drive, especially if they have just got off a longhaul flight and had no sleep, then it is absolutely perfect to break the journey, and catch up on some rest so that you wake up fully refreshed the next morning.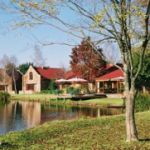 The property has different room types – we stayed in a Lake-facing Cottage, which, surprisingly enough, faced the lake ! We had a small verandah with 2 chairs and a little table, so we sat there enjoying a gin and tonic and just relaxing for an hour or so. Very pleasant indeed.
Our room was beautiful – very large, with a kingsize bed and a small sitting area, the en-suite bathroom had a corner bath and a large walk-in shower. All the rooms are decorated individually, but they are all up to the same standard.
The other room types are the standard Cottage rooms, which are slightly less expensive because they are tucked away behind the Lake-facing Cottages so you don't have a view, and they are maybe not quite as large and spacious … but they are still very comfortable and you can easily walk around to sit by the lake (Critchley Hackle have very thoughtfully put chairs on the grass so you can sit out by the lake if you want, complete with a table inbetween to balance your gin and tonics on too !!).
Then there are the Tower rooms … but don't get too excited … these are not situated in a tower, they are all on the ground floor but the building has a tower / turret affair coming out of the roof. A bit odd, and also these rooms are still to be refurbished (the bathrooms are not great at the moment), but once they have the bathrooms done up, they will be OK.
Finally, there are the Royal suites … well, there is not much Royal about them at the moment, as they too are in desperate need of being refurbished – the plan is to do this sometime this year, I think … but when they are refurbished, they will be excellent for families, as they have a double bedroom downstairs and a twin bedroom upstairs. At the moment, tho, I would not be happy to recommend them, as they really are pretty tired looking.
We had a lovely pre-dinner drink that evening in the bar, followed by a superb dinner … the food was good, the waiting staff were very attentive, and all in all, it was an enjoyable evening.
Would I recommend this place ? Definately yes.
Comments Off

on Our Visit to Critchley Hackle