For us, staying at Saamrus Guest Farm was one of the key nights of our recent business trip over to South Africa, as we are using here as a base for fans going to the first England game of the World Cup, in Rustenburg on June 12th.
All I can say is … what a find.
Locationwise, it is perfect. It is only about a 90 minute drive from the Johannesburg OR Tambo Airport, and within minutes of leaving the airport you are soon driving away from the city smog and travelling through countryside. From Saamrus then onto Rustenburg itself is only about 35-40 minutes – you literally turn right out of the driveway, then right again after a few yards … and this is then the main road into Rustenburg. The Rustenburg stadium itself is out the other side of Rustenburg, about 20 km in a place called Phokeng, but there is going to be a Park and Ride on the outskirts of the city to take fans this last little bit.
Anyway, back to our stay at Saamrus.
The approach is quite adventurous, you travel for about 2 km down a farm track which when it rains would be pretty impassable for a normal 2WD hire car (but the owners do have plans to upgrade this road anyway) – thankfully in June it will be the dry season here, so nobody will have to worry about their car getting stuck !
You pass a couple of other properties on the way, and eventually arrive at Saamrus Guest Farm. An enthusiastic welcome awaits you in the form of a tiny Jack Russell and her much larger Ridgeback companion, who will, given half the chance, lick you to death as a greeting.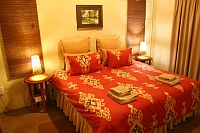 The guest farm is run by a lovely couple, Annatjie and Chris, who escaped the Johannesburg rat race with their son a few years ago and bought the guest farm, with the intention of running a business offering a weekend retreat for local Jo'burger and Pretorians. And they have been very successful at it !
The international market is not their normal clientele, but they are looking forward to playing host to the variety of fan groups that will no doubt be staying with them at different times over the World Cup period. And they completely understand that the fans are here for the football … and as such, for this period only, they are putting a TV into each cottage.
There are 8 cottages in total – 2 down near Annatjie's and Chris's home, and the remaining 6 up a rather steep cobbled track, which can only be accessed by a 4WD – but don't worry, Chris will be acting as chauffeur and is happy to ferry people up to their cottage as and when required if you don't fancy walking it. Hire cars will be perfectly safe parked outside Annatjie's and Chris's cottage, especially with the 2 dogs acting as unofficial guard dogs too !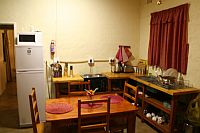 Some of the cottages would benefit from a touch of paint on the outside, but once inside all of them are clean and very comfortable. The open plan lounge / dining area has a wood burning stove, and an extremely well kitted out kitchen area, with a sink, fridge/freezer, microwave, 2 ring hob, pans, cutlery and crockery, plus a dining table. Some cottages are just one bedroomed, others 2 bedroomed, and some have additional day beds in the lounge area. The bathrooms are pretty small – some have a bath with a shower over the bath, some just a shower. For the ladies, please note that there is NOT a hairdryer – so take your own if you need one !
Outside there is a stoop / veranda and a braai / BBQ, and you can buy wood from Chris so you don't have to worry about this – but you will need to buy firelighters or else you may be waiting a long time to eat !!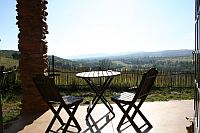 The nearest supermarket for buying your provisions is about a 20 minute drive away in Magliesburg, or there is a large shopping mall in Rustenburg if you are happy to travel a bit further – this may give you a slightly better choice of food. For our fans, Annatjie is also going to offer a breakfast basket which will be delivered to each cottage in the morning – fans will need to pre-order this via us (we need to confirm the cost) before their stay, but more details will be sent out shortly to everyone concerned.
We sat outside last Sunday night for about 4 hours … we enjoyed a braai, and then just sat and enjoyed the peace and quiet and starwatched … true, there is a faint rumble of noise from the nearby road about 2 km away, but it didn't really interfere with the peace that much ! However, don't forget that June in South Africa is Winter … so do take lots of warm clothes if you plan to sit outside !!
Comments Off

on Saamrus … What a Find !!!