We visited here very quickly for a whistle stop tour around this guest house on Monday 22nd February.
As the name suggests, Edelweiss's main market is corporate business people, but definately do NOT let this put you off staying here … it is absolutely lovely.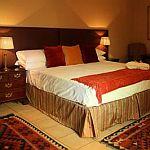 It is an easy 45 minute drive up from Johannesburg OR Tambo Airport, so ideal for anyone needing to overnight near the airport before their morning flight up to Victoria Falls or over to Kruger for example, and who wants to stay somewhere with more personality and hospitality than an airport hotel, or for those who don't want to battle with the heavy traffic into Sandton (until at least the Gautrain is functional !).
The guest house is run by Louisa, who has individually designed all the rooms herself – she could easily get a top paid job as an interior designer !! Each room is styled slightly differently and has a very contemporary feel to the decor. The rooms are large and spacious, the beds looked extremely comfortable, and the bed linen just invites a good nights sleep !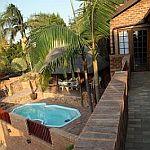 There is a light and airy breakfast room (I can't comment on the breakfast spread because we arrived there too late), and outside there is a small pool and deck area for catching the Pretoria sunrays.
There is secure parking at the property, but be warned … the driveway is both steep AND at an awkward angle … I successfully left a lot of rubber on the driveway as I attempted to wheelspin my way up there – only to fail and glide gracefully back down the driveway into the middle of the road – which luckily, being in a suburb, is VERY quiet !!
Despite the driveway adventure, I would definately highly recommend this guest house to anyone !
Comments Off

on Our Report on Edelweiss (Corporate) Guest House