Lezard Bleu is a lovely guest house, situated in the exclusive suburb of Oranjezicht in Cape Town, and Travel Butlers have practically taken over this guest house during the period around England's first game in Cape Town.
The owners, Chris and Nikola, are certainly looking forward to hosting our customers, and having looked around the guest house last week AND spent a very pleasant few hours one evening in Chris's and Nikola's company, I am 100% sure that our customers will just love their stay here !
The rooms are great – spacious, comfortable and a bit quirky, especially the Tree House. There is a large pool, though in June I am not quite sure how much swimming or sunbathing will be done !
The main guest area consists of one large, family style table, around which sumptious breakfasts can be enjoyed, and of course there will be a communal TV so that everyone can watch all the other World Cup games being played inbetween sightseeing.
Nikola runs a small curio 'corner' too, and all items are locally sourced and made, so sales will benefit local artists and communities.
The family dogs are always around too, there were 4 at the last count !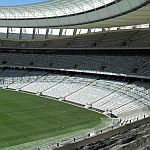 We walked to the stadium from here on the Saturday afternoon, and it took about an hour – Chris has already mapped out a route that he is going to recommend to everyone, including where to stop for lunch on the way down ('Fork' in Long Street … apparently THE best tapas in Cape Town – unfortunately we didn't quite have time to stop here en-route !!).
After the game, to walk from the stadium back to the Waterfront will take about 5-10 minutes, but we would strongly advise everyone to then take a taxi back to the guest house – please do NOT walk back late at night.
We are absolutely convinced that everyone staying here will have a great time … and we are very envious that we can't join you … unless someone has a spare ticket ??!!
Comments Off

on England Fans in Cape Town To Take Over Lezard Bleu !!