I have one word to describe this new addition to the Protea / African Pride portfolio … WOW !!
We stopped here for lunch and a quick tour around on 18th February.
The 15 on Orange Hotel only recently opened its doors, and in fact, they are still in the process of completing some of the floors, and in particular the area where they will have shop franchises is still under a bit of construction … but this does not at all detract from the hotel as it stands today, it just means that when everything is finally completed, the hotel will be simply stunning.
You travel up to the reception floor by lift, complete with a soft sofa just in case your legs just cannot hold you up any more – I have honestly never seen a lift with a sofa in it before !!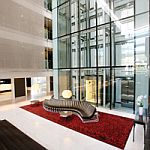 The lift doors open onto the main marbled reception, where there is another sofa masterpiece – a 'centipede' sofa – you have to see it to know what I mean ! Here you will find the dining / restaurant area, which serves breakfast, lunch and dinner.
Off to the side is the contemporary lounge bar, complete with a purple pool table – or for a really funky atmosphere, try the other bar, which is lit at night with blue neon lights and pounds out music to maintain a lively atmosphere.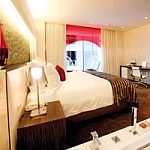 We saw just 3 types of rooms – a standard room, a 'pod' room, and a deluxe / family room. I would not have a complaint at all if I was staying in any one of them.
The pod rooms in particular are just so unique – instead of a balcony you have an area with 2 chair pods suspended from the ceiling, looking out over the atrium and the restaurant area.
There is secure parking – not sure about the cost, as we were there as guests of the hotel so we didn't actually pay anything !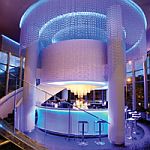 Locationwise, it is about a 5-10 minute drive from the Waterfront area (depending on traffic), and a short walk to the many bars and restaurants along Kloof Street and Long Street. Having said that, if the quality of the lunch that we had is anything to go by … I would not venture out of the hotel !! It was absolutely gorgeous ! I enjoyed butternut squash ravioli, and Paul savoured every last morsel of the wild mushroom risotto – both can be difficult dishes to get right, but the chef achieved 100% perfection !
Definately one to be recommended – a truly stunning 5* property which could almost be classed as a 'destination' in its own right.
Comments Off

on 15 on Orange – 100% Wow Factor !!