We stayed at this Southern Sun property for just one night, on the 18th February 2010.
Getting to the hotel when you first arrive in Cape Town is a doddle. For anyone coming from the airport, you exit the airport, and just follow the signs to Cape Town … and keep going until you reach the Cullinan ! It seriously could NOT be any easier. The hotel offers secure underground parking – it cost us only R40 per day.
On arrival, the first thing you notice is the distinctive colonial architecture of the building and it's superb location. The walk from the hotel to the Waterfront is about 15 minutes, of which about 5 minutes is taken up waiting for traffic lights to go from green to red at the main busy intersection junction.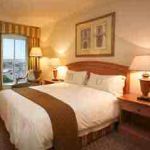 To get around this problem, they are in the process of constructing a pedestrian 'fly over' this junction in time for the World Cup, and for those who don't want to walk, the hotel offers a shuttle bus service.
I would definitely NOT recommend walking between the Waterfront and the hotel after dark – take the shuttle or a taxi instead (there is a ready supply of taxis waiting at all exits of the Waterfront, so this is not a hardship at all).
The hotel is classified as a 4*, and I would say the rooms are definitely this standard. They are clean and comfortable, and spacious – the standard rooms either have one queensize bed and a small table with 2 chairs and a writing desk, or 2 double beds instead, which is ideal for families.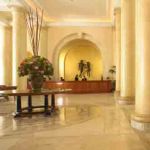 The hotel has just undergone some refurbishments in terms of new linen and chairs in the rooms, but the rooms still have a slightly 'tired' look about them.
Having said this, the main guest areas – ie the reception area, bars, dining room and pool area – are easily 5* standard.
The reception area is large and marbled, and extremely impressive; the outside pool area is a pure sun-trap, and offers sun loungers around the pool or tables where you can sit and order drinks and snacks from the bar.
The bar is cosy and pleasant, and the dining room large and airy.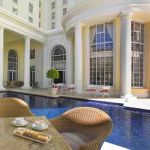 The breakfast selection was extremely good – buffet style, with the choice of juices, cereals, cold meats and cheeses, fruits, and a hot selection too.
Overall the combination of great location, lovely public areas and good staff make this an easy place to recommend, and the fact the rooms are not up to 5* standard helps keep the cost of staying here down a little.
Highly recommended for anyone who wants to be near the Waterfront area without paying 5* prices.
Comments Off

on Feedback Report – Southern Sun The Cullinan, Cape Town