The good news for all lovers of a great deal is that we are delighted to once again to offer the amazing "Stay 2 nights at Shamwari and get 3 nights FREE at a 5* hotel" offer for 2010. 
Whilst this is unfortunately (but understandably!) not available during the football World Cup, the good news is that it starts earlier and runs later than in previous years (15 April to 15 October 2010, as opposed to May to September in previous years).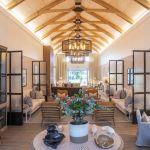 For anyone unfamiliar with this offer, the deal is that you book 2 nights at any of Shamwari's award-winning 5* safari lodges (at the special Travel Butlers reduced rate!), and you can then select a complimentary 3 night stay at selected 5* properties in Cape Town, the Cape Winelands, or on the Garden Route.
Even better: if you stay 4 nights at Shamwari (either at one lodge or two different lodges), you can enjoy 6 FREE nights at the participating hotels (minimum of 3 nights/maximum of 3 nights at any one of the free hotels).
We rate this as one of the best deals around…and we are not alone: it was recently featured in a DealChecker mailout featuring the best South Africa safari offers!
Check out the details and plan your bargin trip of a lifetime to Shamwari now!
Comments Off

on Shamwari Low Season Offer For 2010