Tipping in a private safari lodge is one of those grey areas that always catches people out, and can send even the calmest person into a complete panic.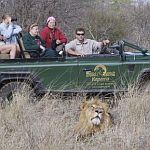 Your time on safari will probably be the most expensive part of your trip. Once there, however, you will forget all about the cost, as you luxuriate in your wonderful accommodation, eat more food than you ever thought possible, forget all about the problems at work as you relax by the pool in the African sunshine inbetween game drives, and experience wildlife encounters that you could never have imagined seeing, or that you only thought you would ever see on The Discovery Programme.
Your last night comes, and you reluctantly return from your last evening game drive to a (yet again) perfectly turned down bed … and then you spot the envelopes, thoughtfully left there by the turn-down staff, with 'that' word emblazoned across the front … 'GRATUITIES' …. Help !!
You don't want to ask your fellow guests what they are leaving, because it is just 'not the done thing' and tipping is a personal matter; you feel too embarrassed to walk into Reception and ask someone there … so what to do ??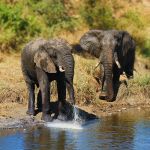 Some lodges will put a 'guideline' in their brochure, which we honestly think are sometimes a bit OTT in their expectations, so our general 'rule of thumb' is as follows :
Your Ranger – by the end of your stay at the safari lodge, he or she will probably be your new 'best friend'. And of course you want to thank them profusely for having shown you the best ever lion / leopard / elephant / rhino sightings in the entire history of mankind.
However, there is no need to go overboard and give them the equivalent of a month's salary (even if you CAN afford it) as this could set a level of expectation that future guests just could not match.
What we normally recommend is think about it in terms of what would your ranger really appreciate, and that could be something like the money to cover a really good meal out for 2, with a nice bottle of wine, so that he / she can treat themselves (and their boy / girlfriend !) on their valuable time off.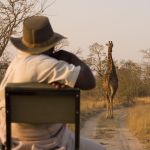 Your Tracker – he will have proved himself to be invaluable, as he will no doubt have spotted things that the normal human could never hope to see – a chameleon on the lowest branch of a tree on the way back to the lodge at night, or a leopard hiding behind a rock – again, tipping too much would not be appropriate.
We would therefore recommend tipping something equivalent to giving him a good night out in a local bar, where he can buy himself and friends a few round of drinks !
Cleaning Staff – if they have kept your room spotless, then a tip is certainly a nice gesture – but maybe just the equivalent of a couple of drinks.
We do hope this helps – but please note this is just a personal opinion, and we are not for one minute promoting the partaking of alcohol beverages … but we have found, having been on a lot of safaris, that this rule of thumb works pretty well and it is a relatively easy way of estimating a tip amount that should not offend anyone.
Comments Off

on The Travel Butlers 'Rough Guide' To Tipping Your Safari Guide