Fpr guests recently staying at the Inyati Private Game Reserve, in the Sabi Sands Reserve which forms part of the Greater Kruger Park, they have been treated to some wonderful elephant sightings.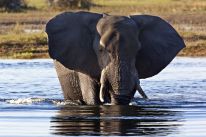 The lodge itself is situated right on the banks of the Sand River, and their particular stretch of the river has become a firm favourite with the eles, providing guests with some awesome game viewing from the lodge deck !
In particular, the elephants seem to congregate together for a midday drink, so what better background for lunch than a herd of elephants – although guests do have to be careful that they remember to eat their delicious lunches inbetween snapping photographs !
As well as the elephants, leopards have visited the lodge too – and one even wandered through camp during dinner one night !
But lets not forget the 'smaller' sightings in and around the lodge that have also generated a lot of excitement – such as a small spotted genet, a white tailed mongoose with a black tail, a serval and her cub, and even a Cape clawless otter.
Generally, otters are very rarely seen, but it is thought that the low water level in the Sand River had encouraged this particular otter out of the thick reeds in search of food.
Comments Off

on Good Game Viewing at Inyati