Guests at Singita in the Sabi Sands Game Reserve have been priviledges to witness some great lion sightings recently, including battles with large herds of buffalo.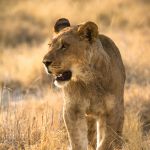 One pride of lions surpassed themselves on one hunt, and took down 6 buffalo in one go – enough to feed on for quite a few days !
We hope that guests weren't too 'squeamish' about the additional fact that August was a record month for 'kills' – nearly 30 in as many days, including the buffalo and wildebeest.
For some, seeing this may NOT be the highlight of their safari game drives … but it is just nature !
Comments Off

on Record Number of Kills in August !