We get a monthly update from one of our favourite lodges in the Sabi Sand Game Reserve, Savanna – and this month's newsletter has some very interesting wildlife stories !
The first one involves an unusual incident in the middle of the month when a leopard was confronted by a large male baboon. The baboon seemed to show no fear or respect and it was the leopard which showed the aggression and respect to the baboon. The baboon walked backwards and forwards, displaying itself to the leopard, no more than 4 or 5 metres away.
Finally the leopard, trying not to lose face, turned around and slunk off into the bush. This is an unusual incident, as many people believe that baboons are a favorite prey species of the leopard. This may be the case in areas where other species are not as prolific as they are in the Sabi Sands, but in this area it is very rare that a baboon will kill a leopard.
With all the recent rains in the area, the dams are full, and as a result there has been an influx of hippo into the Savanna area and at the nearby pan – at one point they had 8 hippos !
After the elephant, the hippo is the heaviest land animal, and a fully grown male adult can weigh up to 3,200 kg. During the day, a common sighting of hippos is of them half-submerged in lakes or rivers.
One female gave birth in the dam at the beginning of the month and guests at Savanna have had wonderful viewing of this little "blob" bobbing around its mother in the water. Even a baby hippo can look cute!
Adult hippos can submerge themselves completely under water for up to 5 minutes by closing their nostrils and ears, but on average surface every minute and a half. Young hippo calves can only stay submerged for 20 – 40 seconds.
A very rare bird has been discovered on the Savanna property: the striped crake.
This bird has only been recorded in South Africa a few times and it was discovered at a little pan where it had bred and had 2 chicks.
There has been great interest in this bird within the birding fraternity of South Africa and the lodge has also had a number of guests travel large distances just to come and see this nondescript little bird.
And finally, probably one of the most amazing stories for a while … there are 3 adult wild dogs that have Savanna as part of their territory.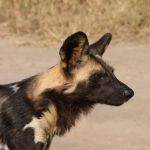 One of these adults was caught by a lioness and feigned death while the lioness walked off with it in her mouth.
As soon as the lioness put the dog down and was distracted by the remaining 2 dogs, the 3rd dog got up and ran off, making good its escape.
And they say animals are dumb …. !!
Comments Off

on News from the Bush