Want to experience the bush from the comfort of your living room? iafrica.com is reporting that National Geographic Wild Channel is broadcating twice-daily game drives this week 'live' from Singita Lebombo in the Kruger National Park, to 166 countries worldwide.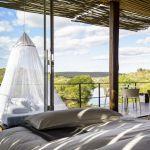 The programme, called 'Caught on Safari: Live', is presented by safari legend John Varty and Andy Coetzee, and will feature morning and afternoon game drives that are being broadcast 'live' until Saturday 15 November. The drives will take place from 6am-8am, and again from 5pm-7pm daily.
The programme will be hosted by UK wildlife presenter Michaela Strachan and will be broadcast on National Geographic Wild, as well as online at www.natgeotv.com. Game rangers and wildlife trackers from Singita, along with veterinarians and ecologists, will also share insight into Africa's conservation issues, as well as specific initiatives taking place in the Kruger National Park.
The 'virtual safari' will cover the length and breadth of the 15 000 hectare Singita Kruger National Park concession, situated along South Africa's border with Mozambique on the far eastern reaches of the Kruger National Park.
Comments Off

on Singita to offer a 'virtual african safari' this week