The Daily Mail is reporting that the FA have chosen Pezula Resort Hotel & Spa in Knysna as their preferred base for the 2010 World Cup in South Africa.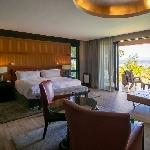 Although we are only half way through the qualifying process, accommodation for the World Cup will be hard to come by closer to the time, and England's decision to pick their training base this early does mean that they have the widest possible range of places still available to them.
Pezula is a beautiful 5* golf resort and Spa just outside the town of Knysna on South Africa's famous Garden Route.  The resort has 82 spectacular suites (including some of the best we have seen anywhere in the world), a fabulous golf course and excellent Spa facilities.  The resort borders a nature reserve which offer relaxing walks in a beautiful environment, and there is also an exquisite sheltered beach nearby.
From a logistical point of view, Pezula is well placed for the stadium at Port Elizabeth, and the airports at George and Port Elizabeth will give fairly air connections to Cape Town, Johannesburg, and other parts of the country.
One thing which might well surprise the WAGS is that the weather in this part of South Africa during the world cup is likely to be cooler and wetter than across much of the rest of the country…they are unlikely to be spending 8 hours a day by the pool, but there is still plenty to do in the area.
Comments Off

on England Choose Pezula for 2010 World Cup