Towering mountains and ancient Rock Art
Situated 300 km north of Cape Town, the Cederberg region in the Western Cape is a beautiful part of South Africa. Known for its dramatic and wild beauty, the scenery is stunning - towering mountains, wide open plains, dramatic rock formations and waterfalls, and endless starry skies after nightfall.
The wildlife that thrive here includes zebra, antelope and ostrich as well as jackal and the rarely seen Cape mountain leopard, alongside nocturnal species such as the aardwolf, African wildcat, bat eared fox, Cape fox and porcupine.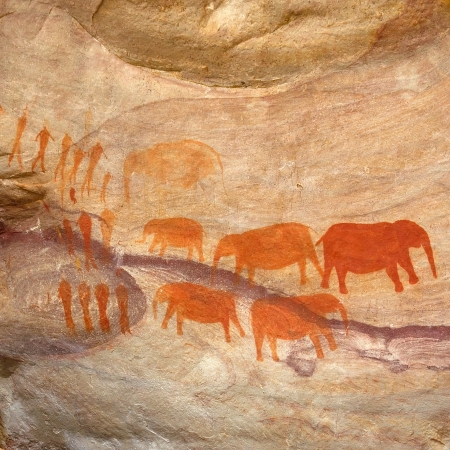 This is not a traditional safari experience however, it is a destination for anyone looking to 'get away from it all' for a few nights and reconnect with nature and enjoy the peace and tranquillity.
Bushman Rock Art
The area is also home to ancient Bushman rock art - the San and Khoi people lived here many many years ago, and some of the rock art sites date back 1,200-1,600 years.
The Cape Floral Kingdom
The Cederberg is part of the Cape Floral Kingdom - one of the world's 6 floral kingdoms which range from tropical rain forests to tundra. The largest floral kingdom, the Boreal, covers 42% of the world's surface across the Northern Hemisphere whereas the Cape Floral Kingdom covers a mere 0.04% and stretches from the Cederberg through to Port Elizabeth in the Eastern Cape - making it the smallest. Despite its size, however, the Cape Floral Kingdom is home to over a staggering 8,500 different fynbos varieties, of which more than 6,000 are found nowhere else in the world - and these 8,500 species make up over 40% of the total plants found in the entire of Southern Africa.
Fynbos have the ability to thrive in poor, sandy soils, and their ideal conditions are hot dry summers coupled with cold wet winters. The best time to view fynbos is from autumn to spring, when most species flower. The protea, the national flower of South Africa, is the most striking of the fynbos species and the King Protea can grow up to 2m high, and the flower head up to 30cm across.