Types of Aircraft, Baggage Allowance, Storing Extra Luggage
On fly-in safaris, movement to or between camps is generally by a light aircraft due to remote areas visited and distances travelled. Light aircraft used for inter-camp transfers vary in size from 3, 5, 7 and 12 seater aircraft.
In some cases, a light aircraft is also used as the method of transport if you are adding on a beach stay to an island just off the mainland - such as Zanzibar or one of the islands off the coast of Mozambique, or if you are 'island-hopping' in Seychelles.
Flight Tickets
Flight tickets for light aircraft transfers are only issued a couple of days in advance, so normally you only will be given these upon arrival at the departure airport by the flight representative.
Flight Times
Air transfer times, particularly on fly-in safaris, vary between 20 minutes to one hour 20 minutes depending on your itinerary. The flight departure and drop off times are only scheduled by the air companies the day prior, therefore we cannot advise actual/precise travel times in advance.
In order to keep the cost of the air transfers reasonable, the lodges all co-operate to share daily schedules wherever possible. The rate you have been quoted is therefore 'a seat in a plane rate' (unless otherwise specified) rather than a private charter rate, meaning you will share the aircraft with guests flying to other lodges/camps.
As a result, your aircraft may stop up to 3 times at airstrips en-route to your destination in order to pick-up and drop-off other travellers.
Most transfers are scheduled between safari activities or to suit your flight arrival/departure times.
Private Aircraft Charter
Even if you charter a private aircraft as part of your trip, so that you can choose your own travel times, it is still important to realise that even a private charter cannot fly after sunset. Therefore, if you arrive too late for the pilot to sensibly land at your destination during daylight hours, you will have to overnight at the point of arrival at your own expense before continuing to your destination the next morning.
Passenger Weight Restrictions
It is of particular importance that you advise your Travel Butlers consultant if one of your travelling party is over 100 kg as this information needs to be passed onto the light aircraft company when making your booking.
We appreciate that this may be a sensitive/delicate topic for some people, but each flight has to carefully calculate the total load weight to avoid overloading and to ensure the aircraft complies with all-important safety regulations, especially when taking off from short bush airstrips, as well as working out the expected fuel consumption.
Passengers over 100 kg may therefore be required to purchase an additional seat, depending on the policy of the individual airline company.
Luggage Allowance
Most light aircraft transfers have a strict restriction of 15 kg luggage per person (some may accept 20 kg; others may have a restriction of only 10 kg however), packed in SOFT SIDED bags. The 'soft sided' bag rule is because the luggage hold area of the aircraft in general is small - so your bag may need to be 'squashed' in - therefore as much flexibility as possible is required! Please therefore do not bring hard or totally rigid suitcases as they will not fit easily, if at all, into the baggage compartment.
This total allowance includes any hand luggage too.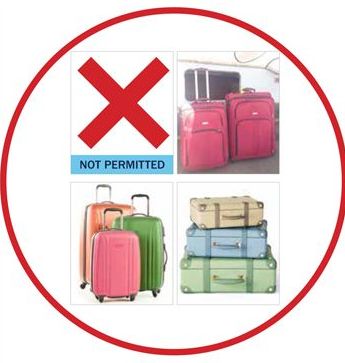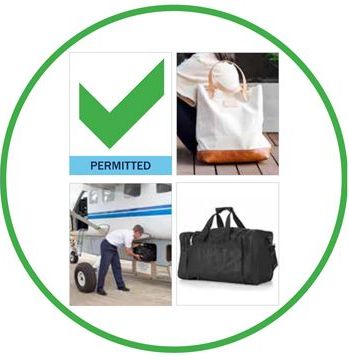 Please check your confirmed itinerary to see the permitted luggage allowance and bag type for the light aircraft on your individual booking.
Please note that if your luggage is overweight or in the incorrect bag type, you will be asked to re-pack and/or you may be charged excess baggage at freight costs, or have to book additional seats or even a private charter at extra cost to accommodate your luggage. Your luggage may even be carried on the next available flight. Additional excess baggage will only be carried at the sole discretion of the captain of the aircraft.
If you are travelling with a significant amount of photographic equipment (large lenses, tripods etc) you may also need to pay for an additional seat to accommodate the equipment.
Excess Luggage
Excess luggage may generally be stored – please advise your Travel Butlers consultant prior to travel if you think this will be required – providing you are returning through the same airport in order to pick your bags up again before your final onward travel.