Zululand Tree Lodge
Ubizane Wildlife Reserve
Set in the cool, whispering tranquillity of a fever tree forest, Zululand Tree Lodge is a truly special retreat where you will be accommodated in luxurious stilted chalets. The lodge is situated in the 1,500 hectare Ubizane Wildlife Reserve, which boasts a variety of game, including white rhino, giraffe, wildebeest, zebra, most species of antelope, and over 350 species of birdlife.
Within a short drive from the reserve is the world renowned Hluhluwe Umfolozi Game Reserve, and daily morning excursions into the Hluhluwe Umfolozi Game Reserve in open game viewing vehicles offer guests the opportunity of viewing a wide assortment of African wildlife including the Big 5.
Game viewing in open game viewing vehicles is usually reserved for the early mornings and late afternoons when the animals become more active after sheltering in the shade of the bush during the heat of the day.
Those looking to get really close to nature can embark on foot with a trained game ranger to see the wonders of the African bush close up. Or for a really thrilling and unique experience, a horseback safari in a neighbouring wildlife reserve (additional cost) adds a new dimension to game viewing.
Accommodation at Zululand Tree Lodge consists of luxurious thatched chalets raised above the floor on stilts. Each of the 24 luxury 'Tree Lodges' include an en-suite bathroom with shower, a kingsize double bed, a bar fridge, tea/coffee making facilities, and a private balcony with enchanting views into the surrounding forest.
All rooms are fitted with ceiling fans and insect nets.
Guests can also enjoy spending time in the quiet lounge, on the observation deck or around the pool.
Add To Wishlist
Enquire Now
BB Basis: Breakfast is included. All activities and lunch/dinner are additional.
DBB Basis: Breakfast and dinner are included. All activities and lunch are additional.
FI Basis: Breakfast; dinner; and 1 Ubizane and 1 Hluhluwe shared game drive per day are included.
Children of any age are welcome. Rates available on request. All children are allowed on Ubizane game drives (am - 2 hours), but only children over the age of 5 are allowed on the Hluhluwe game drives (pm - 3 hours). Babysitting services are available.
Our safari and stay at Zululand Tree Lodge was everything we had hoped for ... the lodge is lovely, set over a meadow at the edge of the forest, and the rooms (or I should say, individual cabins) are very nice. Modern bathroom, comfortable beds, mosquito netting, a large veranda for those peaceful afternoons watching the monkeys in the trees. The staff are very helpful and friendly, and the food is excellent. The game parks are not dense with animals the way Chobe and Kruger are, but there are plenty of species to spot, and the drivers do a fine job. In all, I would recommend the Tree Lodge to any travelers. And I would certainly recommend your service. All the arrangements you made were excellent, and we had no problems whatsoever. Thank you so much.
J DELAND
General Information For Guests
The Hluhluwe morning game drive times vary seasonally - times will be confirmed upon arrival at the lodge.
Popular Alternatives to Zululand Tree Lodge
These are the top properties booked by people who considered staying at Zululand Tree Lodge, but for one reason or another booked a different property. It may have been that Zululand Tree Lodge was not available on the nights they wanted to stay, or they decided that somewhere else was better suited to their budget or itinerary.
If you're not sure which place might be best for your own trip then either give us a call or get in touch via the website, and we'd be delighted to run through the options with you.
Add To Wishlist
Enquire Now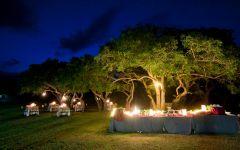 Location