Getaway From the Crowds at Victoria Falls and Chobe
Featured Accommodation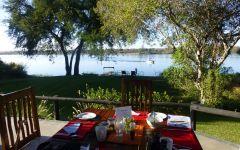 Waterberry Zambezi Lodge
Victoria Falls - Zambia
Muchenje Safari Lodge
Chobe National Park
Destination: Zambia and Botswana.
Escape from the crowds on this 4 night getaway package. Begin with 2 nights in a small, friendly lodge situated along a secluded section of the Zambezi River but still within easy reach of the iconic Victoria Falls, before heading across into Botswana to stay at a lodge which will enable you to explore Chobe and all its wonders in peace and solitude.
This is a 4 night itinerary including Victoria Falls - Zambia and Chobe National Park.
Based on 5 Star Accommodation:
2 Nights at Waterberry Zambezi Lodge
2 Nights at Muchenje Safari Lodge
Price Per Person From
---