The Stable Cottages
Addo Elephant National Park
Set in 4 hectares of expansive lawns, the Stable Cottages are only 8 km from the entrance to the Addo Elephant National Park.
The Addo Elephant National Park is one of the world's great conservation success stories and embraces one of the highest concentrations of big game in Africa and thus offers some wonderful game viewing opportunities.
In addition to the famous elephants of Addo there are also lion, buffalo, black rhino, hyena, jackal and a variety of antelope species. Of the smaller animals the surricates and the flightless dung beetle are of great interest. Over 150 species of birds have been recorded in the area.
Morning and afternoon guided game drives into Addo can be arranged (at an extra cost), otherwise guests staying here can easily drive themselves into the Park.
When not exploring Addo, in front of the cottages is a large swimming pool, as well as the trendy Wine Bar and Farm Cafe where guests have their meals. The Wine Bar and Farm Cafe has (as the name implies) a fabulous wine selection - the menu is a la carte, serving great contemporary country cuisine for lunch and dinner.
The very spacious Cape Country style cottages all have reeded ceilings and private verandah. Two of them are family suites with a separate interleading bedroom for the children.
All the cottages are fully air-conditioned and heated and have stocked mini bars and tea/coffee making facilities.
The Cottages really are great value for money, offering comfort, style and plenty of space.
Add To Wishlist
Enquire Now
Show Rates in
Our standard rates for a Stable Cottage
Dates
Price
Basis
Rate Name
Nights
1 May 2017 to 14 September 2017
GBP £ 44 US$ 57 ZAR 720 EUR 51
pps
Standard Rate
1+ nights
15 September 2017 to 30 April 2018
GBP £ 59 US$ 77 ZAR 965 EUR 68
pps
Standard Rate
1+ nights
Prices are on a per person sharing basis (pps).
Special offers for longer stays or when booked as part of a longer itinerary may apply - details on request.
---
Breakfast is included. Guided game drives into the Addo Elephant National Park are available at a cost of ZAR 900 per person per drive (pre-booking is essential, and cost is payable directly to The Stable Cottages - subject to change).
Children of any age are welcome. Rates available on request.
General Information For Guests
All cottages have reeded ceilings and a private verandah. The family suites have a separate interleading bedroom for children.
In front of the cottages is a large (12m) swimming pool as well as the Wine Bar with wonderful wide verandas, where guests have their breakfast.
The main entrance gate to the Addo Elephant National Park is 8 km drive.
There are various game viewing options available in Addo and the surrounding area as well as some exceptional cultural encounters - rates and details on request.
Add To Wishlist
Enquire Now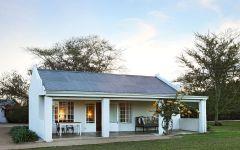 Location