Northern Tuli Game Reserve
Mashatu Game Reserve is located in the Northern Tuli Game Reserve of Botswana, and is the epitome of all that defines wilderness areas in Africa. Visitors are charmed by the vast open spaces, the diversity of wildlife from the gigantic to the miniscule, the majestic skies unfettered by smog, the tranquility interspersed with birdsong and sounds of the wild. Early morning and evening game drives every day bring visitors into close contact with the fascinating wildlife which inhabits Mashatu, promising a different nature experience with each drive.
In additon are the unexpected adventure safaris over and above the game drives - horse-back safaris, cycling safaris and walks in the wild. Photographic hides add an aspect to the adventure safari which is unique and thrilling. These added adventures are all tailored to bring visitors into intimate contact with this remarkable wilderness.
Mashatu Lodge is an oasis among the undulating and seemingly endless plains of the wild. Burning torches at the camp's entrance lure safari-goers home where they experience true African hospitality.
For the client who is accustomed to luxury, this camp will meet every expectation. 14 luxury suites lie along the camp's perimeter and are designed to allow absolute privacy and a communion with the bush and its inhabitants. Watch elephants splashing at the waterhole, listen to the lyrical melody of the woodlands kingfisher on a branch overhead, smell the grassy scent of the bushveld, and touch the bark of an ancient tree and inhale a breath of air so pure, it's intoxicating.
A large swimming pool is a focal point where visitors cool down and relax between game activities.
Meals are a sumptuous celebration of traditional African Cuisine – flavoursome, but lacking in ostentation. Fresh fruits, vegetables, home-made breads and pies, succulent meat dishes and delicious desserts will appeal to a guest who appreciates home cooking at its best.
Show Rates in
Our standard rates for a Suite
Dates
Price
Basis
Type
Nights

1 November 2023

to

15 December 2023

GBP 615

USD 756

ZAR 13,829

EUR 707

per person sharing
Contracted FIT Rate
1 to 3 nights

1 November 2023

to

15 December 2023

GBP 615

USD 756

ZAR 13,829

EUR 707

per person sharing
Contracted FIT Rate - Pay 3 Stay 4
4+ nights

16 December 2023

to

31 December 2023

GBP 615

USD 756

ZAR 13,829

EUR 707

per person sharing
Contracted FIT Rate
1+ nights
Prices are on a per person sharing basis (pps).
Special offers for longer stays or when booked as part of a longer itinerary may apply - details on request.
---
Rates Include
All meals; Conservation Levy; twice daily game drives; and transfers to/from the Limpopo Valley Airfield and Pont Drift Border Post at scheduled are included. All other activities and airfield/border post transfers outside of specified times are an additional cost.

---
Children Policy
Children of any age are welcome. Rates available on request.
---
Special Offers
Free Night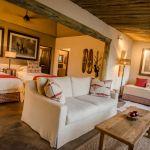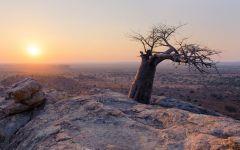 Code: SAF-5778
---
Stay 4 nights for the price of 3 at Mashatu Lodge in Northern Tuli Game Reserve. Full Board basis.
Valid: 1 November 2023 - 15 December 2023.
Book Before: 11 December 2023.
Example price for 2 people staying 4 nights from:
Example price based on staying in a Suite between 1 November 2023 and 15 December 2023.
Reload Map
Mashatu Lodge Location.
Popular Alternatives to Mashatu Lodge
These are the top properties booked by people who considered staying at Mashatu Lodge, but for one reason or another booked a different property. It may have been that Mashatu Lodge was not available on the nights they wanted to stay, or they decided that somewhere else was better suited to their budget or itinerary.
If you're not sure which place might be best for your own trip then either give us a call or get in touch via the website, and we'd be delighted to run through the options with you.