Isibindi Zulu Lodge
The Battlefields
iSibindi Zulu Lodge is situated in a private game reserve in the ruggedly beautiful Zululand. An architectural celebration of the Zulu nation, the lodge is a peaceful bushveld retreat which also offers a host of activities for our guests wanting to experience a combination of luxurious accommodation, gameviewing, battlefields and Zulu cultural experiences.
The main lodge set amongst huge Buffalo Thorn Trees and dolorite boulders boasts a homely lounge with a large fireplace, a library, a unique bar carved out of a Wait-a-Bit thorn tree, a swimming pool with a view and spacious veranda. The privately set swimming pool has breathtaking views over the game reserve.
The 4,000 acre reserve is home to abundant indigenous game, and morning and evening game drives are offered and there is excellent bird watching. It is also quite safe to walk or take a picnic along one of the meandering river beds and view giraffe, zebra and wildebeest.
The 12 bed luxury lodge is very near to the historically momentous Anglo-Zulu battlefields of Rorke's Drift and Isandlwana where Zulu and British clashed in a devastating battle which had enormous consequences for the Zulu people.
Each beehived shaped suite is completely secluded and large French doors are the window to which you will waken, seeing the world as it was meant to be by the soft early morning light. Views are breathtaking from the comfortable cane chairs on your own private wooden veranda.
Add To Wishlist
Enquire Now
All meals; tea/coffee; and 1 daily game activity are included.
Children of any age are welcome. Rates available on request. Children under 6 are requested to have dinner half an hour earlier than adults.
General Information For Guests
Please note there are no credit card facilities available at the lodge.
Add To Wishlist
Enquire Now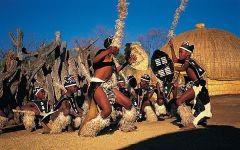 Location