Kruger Park Uncovered
Featured Accommodation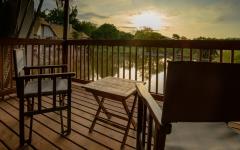 Umbhaba Eco Lodge
Hazyview
Destination: South Africa.
The ultimate safari escape - sit back, relax and enjoy the sights and sounds of South Africa's greatest wilderness area on the 3 day/2 night guided safari tour. If you want longer, the tour can be extended by one night.
This is a 2 night itinerary including Hazyview.
Based on 3 Star Accommodation:
2 Nights at Umbhaba Eco Lodge
Price Per Person From
---