Colobus Monkeys and Chimpanzee Tracking
In the south-west corner of Rwanda you will find the Nyungwe Forest National Park. Reached by a 5-6 hour drive from Kigali or a one hour flight, this ancient forest covering approximately 1,000 square km is thought to date back to the Ice Age. It is here you will find two of Africa's most important rivers - the Nile and the Congo - but there are many more reasons to visit here.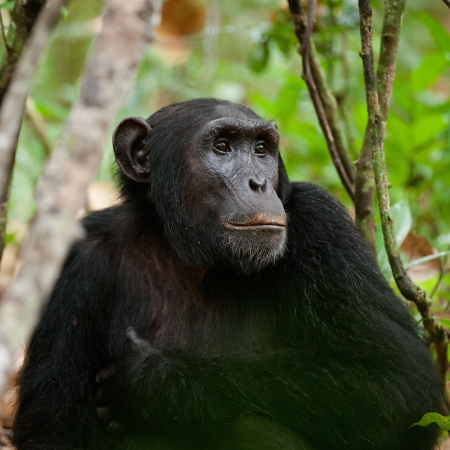 Primate trekking is one of the most popular activities. The Park is home to 13 different species of primates which account for about 20-25% of all the primates in Africa but only the chimpanzees and Colobus monkeys are habituated so can be visited by tourists. The Colobus monkeys here live in a huge troop of up to 400 individuals - the largest known troop size throughout Africa.
The cost of a permit is currently USD 90 per person per trek and once you find your group of primates you are allowed to spend an hour with them as they go about their normal daily lives amongst the forest canopy.
Birders will be enthralled by the number of bird species - over 320 - and the sound of bird calls echoes throughout the forest, accompanying you as you trek through the trees on one of the 15 marked trails.There are 29 endemic species found in Nyungwe, including the colourful red-collared babbler and the purple-breasted sunbird. The rarest of the birds found here include the Congo Bay owl, the Albertine owlet and the Rockefeller's sunbird which have been reported but are seldom seen.
To add additional colour to the dense greenery are 120 species of butterflies, over 1,000 plant species and nearly 150 varieties of orchid. Over 75 species of mammals are also found here, including cerval cat, mongoose and even leopard - although sightings are very rare.
Suspended 70m above the forest floor is a 160m long canopy walk. This adventure is available as part of a guided tour and provides an exhilarating perspective of the ancient treetop canopy and wildlife.
Surrounding the forest are numerous tea plantations and visitors are welcome to take a tour and sample some blends. Tea was first introduced in Rwanda in 1952 and is now one of the country's largest exports. Especially when viewed from the air, the neatly planted rows of tea crops contrast beautifully with the wild forest greenery just behind them.