Little Mombo
Okavango Delta
Little Mombo Camp is situated on Mombo Island, adjoining the northern tip of Chief's Island within the Moremi Game Reserve in the Okavango Delta, northern Botswana. It is a smaller and more intimate camp than its sister, Mombo Camp, to which it is connected via a raised walkway.
Much of Little Mombo Camp overlooks the surrounding floodplains which offer some of the best big game viewing in the Okavango Delta.
Activities include morning and afternoon game drives. Open 4x4 vehicles provide an exquisite vantage for viewing the high concentrations of plains game and all the predators - including the big cats. Lion sightings are frequent.
Guests at Little Mombo Camp can also expect to see leopard and cheetah, wild dog, spotted hyena, large herds of buffalo, elephant, white rhino, southern giraffe, blue wildebeest and Burchell's zebra.
Little Mombo Camp is built under a shady canopy and has 3 luxurious, spacious rooms under canvas with en-suite bathrooms and outdoor showers for guests looking to get closer to nature.
A sala, large veranda and lounge area provide ample place to relax and enjoy the view. Little Mombo Camp also has its own dining room, kitchen and pool.
Add To Wishlist
Enquire Now
All meals; all scheduled shared lodge activities; Park fees; and drinks (except premium imports) are included.
Popular Alternatives to Little Mombo
These are the top properties booked by people who considered staying at Little Mombo, but for one reason or another booked a different property. It may have been that Little Mombo was not available on the nights they wanted to stay, or they decided that somewhere else was better suited to their budget or itinerary.
If you're not sure which place might be best for your own trip then either give us a call or get in touch via the website, and we'd be delighted to run through the options with you.
Vumbura Plains
Okavango Delta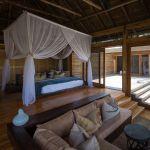 Prices on request.
Add To Wishlist
Enquire Now
Add To Wishlist
Enquire Now