Inyati Private Game Reserve
Sabi Sand Game Reserve
Inyati Private Game Reserve is situated in the world-acclaimed Sabi Sand reserve adjoining the Kruger National Park. Set on the curving banks of the Sand River, the lodge is renowned for its excellent service, accommodation and game viewing opportunities. Regular sightings of hippo and crocodile along the lush river bank, or herds of elephants enjoying an afternoon bathe, can be enjoyed from the large wooden viewing deck, while the morning and afternoon game drives on open Land Rovers provide unrivalled game viewing in the company of highly skilled rangers and Shangaan trackers.
Buffet style breakfasts and lunches are served on a thatched patio overlooking a natural clearing often frequented by game. After breakfast, enjoy a guided bush walk in the company of your ranger, to seek out the smaller species of the bush and to learn more about the plants and trees of the area.
In the evenings, delicious open air dinners are served in the boma under the stars, or in the bewitching seclusion of the bush. The Warthog Bar is the ideal venue for a sundowner drink, and to chat with fellow guests about the activities of the day after dinner.
Each of the immaculately furnished 11 en-suite luxury chalets all have glorious river views. Each is equipped with air-conditioning, mosquito nets, telephone, and beautifully appointed bathrooms. The Family Chalet has a kingsize bed plus 2 single beds.
The crystal clear swimming pool is an ideal venue for enjoying sundowners, or for cooling off after having spent a morning under the warm African sun. There is also a small air-conditioned gymnasium.
Add To Wishlist
Enquire Now
Show Rates in
Our standard rates for a Chalet
Dates
Price
Basis
Rate Name
Nights
1 January 2017 to 31 December 2017
GBP £ 442 US$ 553 ZAR 7,190 EUR 518
pps
Standard
1+ nights
Prices are on a per person sharing basis (pps).
Special offers for longer stays or when booked as part of a longer itinerary may apply - details on request.
---
All meals; tea/coffee; bush walks; shared game drives; and refreshments on game drives are included. PLEASE NOTE: All other drinks are NOT included. IN ADDITION: For guests arriving by road, there is an entrance fee payable of R110 per person to enter the Sabi Sand Game Reserve, which is payable at the entrance gate. Self-drive visitors must also pay a R250 per vehicle entrance fee. All entrance fees subject to change. For guests arriving and/or departing via FedAir, the landing/departure fees are not included and are payable directly to the lodge - rates on request.
Children aged 8 years and older are welcome. Rates available on request. Children under 16 are not allowed on bush walks. Babysitters are available at a nominal hourly rate.
All of the holidays we prepare are tailor-made, but this might give you an idea of how Inyati Private Game Reserve can be included in you own dream holiday.
Suggested Itineraries
Cosmopolitan Culture and Untamed Beauty
This is a week that combines the vibrant V&A Waterfront with the untamed African beauty of the Sabi Sands Game Reserve in Greater Kruger, one of the best wildlife viewing spots on the whole continent.
7 day itinerary including Sabi Sand Game Reserve and Cape Town.
Prices from pp*
Add To Wishlist
Enquire Now
Big 5 and Beaches
This 10 night itinerary keeps it simple yet classic. You'll start your holiday in the Sabi Sand Game Reserve for 3 nights, a Big 5 wilderness bursting with adventure, where the days are designed to thrill you with intimate wildlife encounters and the nights to delight you with the indulgence and romance of the African night. Then you have 7 blissful nights on the west coast of Mauritius, at a resort which is a perfect hideaway for anyone seeking tranquility, comfort and a personalised service in an elegant setting.
10 day itinerary including Sabi Sand Game Reserve and Mauritius.
Prices from pp*
Add To Wishlist
Enquire Now
Classic Combo
This 10 night itinerary keeps it simple and classic, combining a heart-thumping Big 5 Kruger safari with a tropical island stay on the white sands of the famous and picturesque Beau Vallon Beach.
10 day itinerary including Sabi Sand Game Reserve, Mahe and Johannesburg.
Prices from pp*
Add To Wishlist
Enquire Now
*Prices are per person and are based on today's exchange rates. Exchange rates are subject to change and are updated daily.
Prices exclude international flights - ask us if you would like to include these.
Guest Rating: 4.9 / 5.0 based on 35 ratings
We love Inyati and will return there on our next trip. The rooms are lovely, food delicious, and of course the game and wildlife viewing is superb.
A LUETCHFORD
Inyati was wonderful, the lodge, the food, the service and most importantly the Ranger and Tracker. We had the greatest animal sightings and experiences. Better than we expected!
D WALSH
I just wanted to say what a fantastic time my daughter and I had at Inyati this week. The accommodation, people, service and of course drives were fantastic. We couldn't fault any of it. We had a wonderful time and we would certainly recommend Inyati to anyone. We saw so many animals, in large numbers, and great locations. The staff, and in particular George our Ranger were great.
T SAVVAS
Great sightings at both camps, by excellent rangers, saw cheetah (x1 at Mala Mala, x3 at Inyati), wild dogs at both and Inyati with a kill, lions at both (Mala Mala over 3 days with a kill, but Inyati had 3 male lions), saw everything at both but elephants having a mud bath was a highlight at Inyati. Food and service was great at both, slightly more relaxing at Inyati as there was a longer break in the day more flexibilty on moving around and mingling. Would do both camps again and they complimented each other.
C MACKIE
Inyati was good value for money compared to some other lodges and the game viewing experience was brilliant. All the Big Five in one morning!
S KERLEY
Inyati was incredible. The staff was fantastic, the accomodations were beautiful and the wild animals were incredible. If I can go back I will! I am recommending this trip to all of my friends. I appreciate Anneli Rudiger of Travel Butlers for putting this great experience together for my husband and I. Doing all of this online with her was incredibly easy and I will recommend her and Travel Butlers highly.
M RODOLFA
An excellent trip. Highlight was the three nights at Inyati.
L ZANDER
We had an absolutely fantastic trip, and the itinerary you arranged for us was really perfect in pretty much every regard. All the properties we stayed at were quirky, luxurious and beautifully situated, as well as extremely friendly and welcoming. Inyati Lodge was just wonderful: all the staff were so friendly, the food was ridiculously amazing, and we met some great people (not to mention seeing the Big Five - and more - every single day). Meanwhile The Last Word (the new name for The Franschhoek) was especially memorable: we were treated like royalty, and generally ate and drank incredibly. Thank you very much indeed for arranging it: it really couldn't have been any better, and our memories will stay with us forever.
T STUART-BUTTLE
Words cannot describe our gratitude to you for the arrangements you made for our safari. Everything went like clockwork, and the Inyati Private Game Reserve was perfect. We had a wonderful time, and saw all the Big 5 and much more, and were treated like royalty. Thank you once again for all your efforts.
F SHAYLOR
We would like to tell you that our trip to South Africa was an adventure from beginning to end. Kristin and Stefan were able to use the unexpected extra day for sightseeing around Johannesburg, we really enjoyed Zambia and there was no end to the spectacular sights around the Inyati lodge. We want to extend our very special thanks for all the effort which you put into making everything work out - way over and above what we could have asked of you. We have never before received such service and we will most certainly recommend you to all our friends. We fully realize that we were somewhat difficult travellers, given the complex itinerary, but you made all of this seem easy and routine. In particular, calling Kristin to make special arrangements when her flight got cancelled and taking the extra effort to make sure we could all meet up in Jo'burg from different routes were really, really appreciated efforts. We really enjoyed every single day of the vacation. Let us simply say that our Christmas cards this year are filled with descriptions from the trip.
G STEFANSSON
Inyati was again wonderful and we saw so much wildlife at such close quarters it again was magical. The service we received from Travel Butlers was first class with everything working like clockwork.
P HARDY
Inyati delivered the most amazing experience with superb hospitality and comfort and with animal contact second to none.
B MASON
I just wanted to thank you personnal for everything you did to make this holiday one of the best we are likely to ever experience. Your recommendation of Inyati could not have been better. Within minutes of being at the site we saw rhino and elephants and our luck carried on from there. By the end of the 3rd game drive we had been up close and personal with all 5 of the big 5. The pride of male lions not more than 2 feet away was particularly exciting. They were massive. All the details came together and everything including transfers and accommodation went very smoothly indeed. Kim and I certainly had an experience of a life time and once again I would like to say thank you. I wil be recommending Travel Butlers and you personally to all my friends.
J NEVILLE
Well - what can I say. We had the time of our lives. I have just written on your feedback page so when you see that, you will realize what a great time we had. Thanks so much for recommending Inyati. It was fantastic - we saw everything. We want to go back again and we are telling all our friends that Inyati is a place that everyone should go at least once in their lives. I think I have persuaded my parents to go - Africa was somewhere they hadn't even considered going for a holiday. I will give your name to anyone who wants to book a holiday, so stay tuned!!!!!! We stayed in the rooms right near the river - numbers 8 and 9. They were lovely - truly authentic African. We had water buck on the lawns, monkeys in the trees right next to us and baboons strolling past our verandah. The brunches and dinners were all served in different locations and were all beautiful. I think James and I put on a few kilos - we couldn't resist tasting everything. Anyway - we are saving up for our next holiday to Africa - when and if that happens we will be in touch. Thanks once again for organizing such a wonderful experience for us.
S STOKELL
Inyati was absolutely lovely, thank you for such a great recommendation. The food, games drives and surroundings were breath-taking.
D GILL
Inyati is great, I saw the Big 5 in the first 2 hours. Your service was absolutely brilliant. The places you picked and the order were perfect for me. I tell everyone about your great service. I'm sure we will do business again. You made the experience wonderful and easy. Who could ask for more?
R FARDY
Inyati Private Game Reserve was fantastic - everything was more than perfect - transfer, accommodation, service, food, amenities, etc. The staff both at the lodge and on safari itself were so friendly and helpful and our ranger Tim and tracker Nelson were fabulous and we saw so much in our sadly all too short time there than I could ever have imagined - lions, elephants, zebra, giraffe, leopards .... Thank you for all you help and hopefully one day we can revisit Inyati!
E CLARKE
Just a note to say thanks very much for your advice and booking of our night in Blue Jay Lodge and our 3 nights in Inyati. We thoroughly enjoyed ourselves. Blue Jay Lodge is a great lodge and Inyati was just wonderful. We could have stayed there a lot longer and saw the Big 5 in one morning as well as 2 cheetahs. Just fantastic!
D HAYWARD
I wouldn't hesitate to recommend Inyati to any one - it was excellent.
C SANDALL
We are back from the trip now and had an absolutely amazing time! Although we had rain each day we were there, we saw the Big 5 in the first 2 game drives, saw plenty of animals in every drive, and thought Inyati and the people there were incredible. Thanks so much for all your help and we'll look forward to planning more trips with you in the future.
K REILY
Inyati was FANTASTIC so thank you very much for the recommendation etc! I got the credit for finding it but I kept telling the group that it was completely your advice. Julie and Jon are still out there and boy was it hard to leave on Friday...
B ROBBINS
Just to say we were very happy with Jackalberry Farm and Lodge and Inyati - it was a great trip. We were particularly pleased with the recommendation of Jackalberry - it was such a nice way to start the holiday with a couple of days relaxing there - even if we didn't see any hippos! The Inyati accommodation was fabulous and the whole trip was great. Thank you again for your help.
E STEPHENSON
Just wanted to say a BIG thank-you for all your help on organizing our trip. Back to reality now, but the whole experience was awesome. There are no words that would do the whole trip justice; the safari has still rendered me speechless. The Inyati lodge itself was amazing. Everyone kept saying it was the best one out of the ones nearby ... Certainly recommend it to anyone.
S WATERS
I just wanted to drop you a quick note to thank you for organising such a wonderful trip for us. The accomondation along the Garden route was wonderful and the highlight of the trip really was Inyati Game Reserve which was absolutely fantastic. We saw some amazing wildlife and were treated so well by all the staff at Inyati, they said to pass on their best wishes to you. It really was a trip we will never forget.
A HODGE
On behalf of both Lynn and I, I wanted to say a very BIG thank you for a truly fantastic experience at Inyati - we both had a brilliant time. We could not find fault with anything - John and Francine are such a lovely couple and great hosts, George and Solly were the best and we had such a good laugh with them both on the rides. Our room (no. 3) gave us a spectacular view of the elephants traipsing across the lawn one lunchtime :-) and we very much plan to join the 45% "return" visitors at some point next year. Thanks ever so Tracey for such a great recommendation - we did hand out your details to a number of people whilst there so here's hoping your website is bombarded.
K LAMBE
I have no complaints whatsoever with Inyati or Jock's. Both were special in their own ways. The people, food, and service at Inyati were top notch. Giving us hot water bottles at night and for our morning game drives was an especially nice touch. But then Jock's seemed to go a step beyond. We had a ranger, JV, who was absolutely wonderful. He was very knowledgeable and fit right in with our family. The girls (including my wife) wanted to take him home as their souvenir. I would highly recommend both lodges to any of my friends. We definitely will use you and / or recommend you.
S DAVIS
Tracey, I thought that the trip was the most amazing I have ever done. Inyati Private Game Reserve was fantastic and I particularly liked the African fee lthat you got. It appeared less commercial than others we saw.  It was intimate and you were treated as a friend (with respect thought) and not as a 'guest'. Thought the guide was excellent, knowledgeable, caring and understanding.  All in all it was fantastic.  A trip we are both keen to repeat!
G FULLER
Thank you very much, we had an absolutely excellent time. Inyati was perfect for us, the accommodation, food and staff were all top notch, I think that was the highlight for us. Also Dianne, Janne and Michael at the Table Mountain Lodge we found to be the absolute best hosts, they couldnt do enough for us and were excellent to talk to. Peebles was an absolutely amazing room and bathroom, and whilst we were at dinner our hostes there went into our room and set out candles and ran a bath as well which was lovely.
R BARNES
Inyati Private Game Reserve Location
Directions For Drivers
From Hazyview: Proceed through Hazyview until you reach a set of traffic lights with a shopping centre on the corner. Turn here - the road is signposted to the Kruger Gate. Continue along this road for approximately 34.5 km and on the left-hand side of the road, you will see lodge signboards for various lodges including Inyati, Idube, Exeter and Savanna. Turn left here onto the sand road (if the MalaMala, Sabi Sabi and Londolozi signs are reached, or the Kruger Gate itself, you have gone too far and must turn back).
Once you have turned onto the sand road you will go through a cattle control gate. From this point the way is well signposted with the lodge signboards. The sand road has potholes and also goes past some villages, so please drive carefully. There is approximately 12 km of sand road, after which you will arrive at the Newington Gate entrance of the Sabi Sand Game Reserve.
For all visitors, there is an entrance fee payable of R110 per person to enter the Sabi Sand Game Reserve, which is payable at the entrance gate. Self-drive visitors must ALSO pay a R250 per vehicle entrance fee. All entrance fees subject to change. Please retain your receipt as proof of entrance and have it stamped at your destination when you are leaving, which acts as your Exit Permit.
Once inside the gate, follow the signs to the lodge through the reserve. Allow between 30-50 minutes to drive from the gate to the lodge.
Do not get out of your car until you reach the lodge. You may see some wildlife on your way - if you do, slow down and maintain a good distance. Do not drive off-road in any circumstances.
From the Paul Kruger Gate: Go through the gate, and follow the R536 to Hazyview. Continue along this road and on the right-hand side of the road, you will see lodge signboards for various lodges including Inyati, Idube, Exeter and Savanna. Turn right here onto the sand road and follow the directions as above.
From the Kruger Mpumalanga/Nelspruit International Airport: Turn right out of the airport onto the R538 and follow the signs to White River (Witrivier). Continue for approximately 12 km, until you reach the first set of traffic lights in White River, with the mosque on your left. Turn right and travel towards Hazyview on the R40. After approximately 45 km, you will go down a steep hill towards a T-junction. Turn left, staying on the R40 and follow the directions from Hazyview as above.
From Johannesburg/Pretoria: Take the N12 or N4 highway respectively to Witbank/eMalahleni (from Johannesburg Airport, follow signs to Boksburg to find the N12). Follow the N4 highway past Middleburg (Toll Plaza), Belfast/eMakhazeni and Machadodorp (Toll Plaza). Follow the Schoemanskloof option on the N4 towards Nelspruit/Mbombela. At Nelspruit/Mbombela, turn left onto the R40 to White River. In White River, at the first set of traffic lights in the town itself, turn left, following signs to Hazyview and Wildtuin/Kruger National Park. At the next set of traffic lights, turn right. Cross over the next set of traffic lights and then at the final set, with a Caltex garage on your right, turn left on the R40 for Hazyview (the R538, via the Numbi Gate, is a busy road and not recommended). After approximately 45 km, you will go down a steep hill towards a T-junction. Turn left, staying on the R40 and follow the directions from Hazyview as above.
From Johannesburg/Pretoria via Scenic Route: Take the N12 or N4 highway to Witbank/eMalahleni (from Johannesburg Airport, follow signs to Boksburg to find the N12). Follow the N4 highway past Middleburg (Toll Plaza), Belfast/eMakhazeni and Machadodorp (Toll Plaza). Follow the Schoemanskloof option on the N4 and then take the R36 to Lydenburg/Mashishing. In Lydenburg/Mashishing, follow the signs to Sabie over the Long Tom Pass (the highest tar road in South Africa). In Sabie, take the R536 to Hazyview. Just before Hazyview you will reach a T-junction. Turn right onto the R40 towards Hazyview and follow the directions from Hazyview as above.
General Information For Guests
All rooms have air-conditioning, fans, a hair dryer, an in-room safe, mosquito nets, a personal mini-bar (stocked on request), a telephone and tea/coffee making facilities.
There is a swimming pool and a fully equipped gym.
As well as morning/afternoon game drives, guests can also enjoy interpretive guided bush walks offering the bird watcher, dendrologist, botanist and the nature enthusiast the ultimate bush experience. Regrettably, walking safaris are not suitable for children under 16 years of age.
Inyati also offers fishing as an extra activity between game drive times. All fishing equipment is supplied by the lodge.
All guests will be asked to pay a voluntary Conservation Levy (currently R114 per person per night) which will be added to your room account to settle on departure.
Visa, Diners, AMEX and MasterCard credit cards are accepted.
There is a curio shop.
Wi-Fi is available in the public areas only but this can be slow and intermittent.
Satellite TV is available in the lounge area.
Emergency lighting is provided as there is a back-up generator so if the national grid goes off then the generator kicks in and operates the lodge at 100% capacity. There are also lights along all paths, as well as torches in every room.
Popular Alternatives to Inyati Private Game Reserve
These are the top properties booked by people who considered staying at Inyati Private Game Reserve, but for one reason or another booked a different property. It may have been that Inyati Private Game Reserve was not available on the nights they wanted to stay, or they decided that somewhere else was better suited to their budget or itinerary.
If you're not sure which place might be best for your own trip then either give us a call or get in touch via the website, and we'd be delighted to run through the options with you.
Add To Wishlist
Enquire Now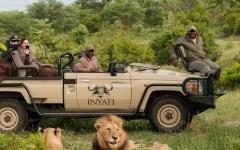 Location
Top Rated Property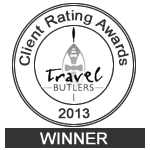 Inyati Private Game Reserve was one of the top rated properties in our 2013 awards.
The awards are based on the ratings that clients of Travel Butlers give after their stay, and Inyati Private Game Reserve had an average score of 4.9 out of 5.
See All of the 2013 Award Winners