Camp Moremi
Okavango Delta
Camp Moremi can be found in the Xaxanaka region of the Moremi Wildlife Reserve, within the Okavango Delta. Moremi combines mopane woodland and acacia forests, floodplains and lagoons and has a vast variety of plant, bird and animal life, creating one of the most magnificent and welcoming wildlife sanctuaries in all of Africa.
Track big game on morning and afternoon game drives by open 4x4 safari vehicle in the Moremi Wildlife Reserve, renowned for frequent sightings of lion, leopard and cheetah, as well as wild dog. Other game seen in the area are hyena, hippo and the full range of antelope, large and small, including the red lechwe. Alternatively, explore the Xakanaxa Lagoon and surrounding Okavango channels by motorboat, affording guests exceptional bird-watching opportunities, as birdlife is prolific and varied, ranging from water birds to shy forest dwellers.
Before returning to the lodge on your afternoon activity, enjoy sundowners with views of Botswana's breathtaking sunsets.
The main guest area is an elegant elevated thatch and timber structure, consisting of a main lounge, wildlife reference library, dining room and cocktail bar.
Other facilities include a secluded swimming pool with sun deck and a thatched boma, where brunch and high tea is served. The elevated viewing hide has unsurpassed views of the Xakanaxa Lagoon, where one can sit back, relax and simply enjoy this spectacular sight.
The camp accommodates only 24 guests in East African-style safari tents. Each tent is individually situated on raised teak platforms with private adjacent facilities and viewing decks.
Add To Wishlist
Enquire Now
All meals; alcoholic and non-alcoholic drinks (excluding premium brands); scheduled shared activities; laundry; and Park fees are included.
Children aged 12 years old and older are welcome. Rates available on request.
Popular Alternatives to Camp Moremi
These are the top properties booked by people who considered staying at Camp Moremi, but for one reason or another booked a different property. It may have been that Camp Moremi was not available on the nights they wanted to stay, or they decided that somewhere else was better suited to their budget or itinerary.
If you're not sure which place might be best for your own trip then either give us a call or get in touch via the website, and we'd be delighted to run through the options with you.
Add To Wishlist
Enquire Now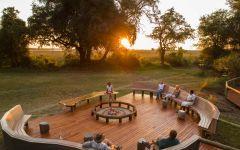 Location