Gorilla Encounter - Accommodated
Countries visited: Uganda
A 7 day/6 night accommodated tour, starting and ending in Kampala, Uganda. Highlights include trekking mountain gorillas in the Uganda National Park, visiting the Queen Elizabeth National Park to see the legendary tree-climbing lions, and relaxing on Lake Bunyoni. PLEASE NOTE: There is a very rare possibility of Rwanda or DRC if gorilla permits are unavailable in Uganda - you will be advised beforehand if you need to travel to either of these countries.
2015 RATES
Cost per person sharing: R10,650
Single Supplement: R1,490
Optional Green Seat: R70
Meals Included: 6 Breakfasts, 6 Lunches and 6 Dinners
FULL ITINERARY
Day 1 Kampala
After arrival in Kampala, you will meet up with your guides. This day is set aside for everyone to explore the area. Most people take an optional day trip to the Chimpanzee Sanctuary of Ngamba Island. This non-profit eco-friendly project was set up in 1998 to care for orphaned chimpanzees. Optional Activities: Ngamba Chimpanzee Excursion, visit the Uganda Wildlife Education Centre, dinner out.
Meals: No meals included
Day 2 Kampala - Lake Bunyoni
Lake Bunyonyi is a small but attractive lake with steep sides and abundant birdlife. Ringed by mountains, the lake is best known for its dense otter population and stunning scenery. You will make use of this beautiful spot to relax the night before the final drive to the gorillas.
Meals: Breakfast, Lunch, Dinner
Day 3/4 Gorillas (Lake Bunyoni)
The mountain gorilla is extremely endangered and while exact numbers vary it is widely assumed that there are only around 650 left. Visiting the gorillas is a great way to support their future on earth as the money spent on permits is used for their protection. An extremely important part of the future conservation of the remaining gorillas rests in the community development work - as local communities change their attitudes towards wildlife and start to protect rather than poach, the future of the mountain gorilla is assured.

As permits granting permission to visit the gorillas are extremely limited the tour requires flexibility in both the tour itinerary and where you actually visit them. The home of the mountain gorillas is completely at odds with man-made borders and so their range encompasses Uganda, Rwanda and the DRC (Democratic Republic of the Congo). Whenever possible the tour will choose to make use of the National Park in Uganda, but this depends on the availability of permits. Should your tour not obtain permits to visit the mountain gorillas in Uganda then you will be informed beforehand that the tour will travel to Rwanda or DRC.

On your free day in Bunyoni you will have the opportunity to participate in certain optional activities. You can embark on a boat ride to the community of the Batwa (pygmies) who stay in the islands adjacent to the lake to observe their social lifestyle, behaviour and be entertained by their cultural performances. You can also experience the local cultures on the Buhoma village walk or explore the area on a mountain bike.
Optional Activities:Buhoma village walk, visit to the Batwa (Pygmies) tribe, mountain biking, Bwindi forest trail, Buhoma trail.
Meals: Breakfast, Lunch, Dinner
Day 5/6 Queen Elizabeth National Park
Leaving Lake Bunyoni, you venture to the Queen Elizabeth National Park, where you will spend the next 2 nights. Many game species can be found in this wetland park as well as the (elsewhere elusive) giant forest hog and the legendary tree-climbing lions of the Ishasha Sector. You will enjoy an included 4x4 game drive on Day 6 through the National Park. .
Optional Activities: Kasinga Channel Sunset Cruise, chimpanzee trekking at Lake George.
Meals: Breakfast, Lunch, Dinner
Day 7 Kampala
Today you drive back to Kampala, where your tour will come to an end.
Meals: Breakfast, Lunch
GORILLA PERMIT
This is a compulsory additional payment that covers the permit to see the gorillas.
Cost per person: Between US$630-US$730 (subject to change without notice)

OPTIONAL ACTIVITY PACKAGE
This is an optional additional payment that covers what is considered to be 'essential activities' on this tour and therefore this itinerary has been written with these items included in the day-by-day itinerary. Ideally we would include all of these, but not everyone can afford this.
Includes Queen Elizabeth National Park entry fees.
Cost per person: R1,250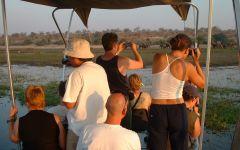 tour code
duration
Tour Length: 7 days/6 nights
start/end point
Starting Point: Kampala
Ending Point: Kampala
frequency and pax
Frequency: Twice a month
Min/max people: 4/18