Fly In, Fly Out Gorilla Trekking
With Options
Featured Accommodation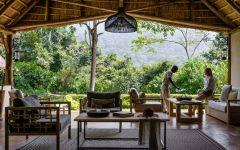 Sanctuary Gorilla Forest Camp
Bwindi Impenetrable Forest
Destination: Uganda.
If your sole aim is to track gorillas and tick this off your bucketlist, then this fly in, fly out 2 night trip is ideal for you. The short duration of your time in Uganda works perfectly as a combination with a safari in Kenya or Tanzania, as there are direct flights between Kenya's Masai Mara or Tanzania's Serengeti Park with Entebbe, making this gorilla trip a perfect add on to a longer holiday in East Africa.
This is a 2 night itinerary including Bwindi Impenetrable Forest.
Based on 5 Star Accommodation:
2 Nights at Sanctuary Gorilla Forest Camp
Price Per Person From
---