Seeing the Great Wildebeest Migration in Tanzania
The Great Migration is an astonishing race for life and an incredible sight to behold. The greatest wildlife phenomenon of them all, it's an experience that will leave you completely speechless. If you're looking for the definitive safari, then look no further.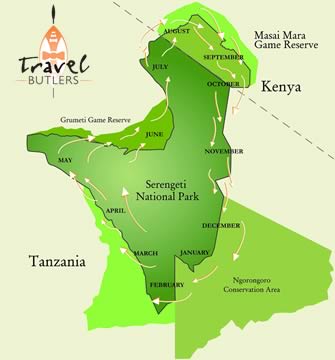 Every year, over 1.5 million wildebeest, 200,000 zebra and 350,000 gazelles gather on the southern plains of the Serengeti to begin an extraordinary journey in search of greener grazing land. Following the rains, they head north towards the Masai Mara in a herd of quite simply epic proportions. Then, when the rains begin to dwindle on the Masai Mara, they turn back towards the Serengeti again, in a remarkable round-trip of over 1,800 miles.
Their journey is fraught with danger, from predators lying in wait on the plains to river crossings complete with perilous currents and snapping crocodiles. It really is a sprint for survival, and many do not have the strength to get to the finish line. In fact, an estimated 250,000 wildebeest don't make it each year. It's the survival of the fittest in action as the herd chases the seasons to stay alive.
Watching this journey take place is toe-tingling. The sight and sound of millions of hooves pounding the sun-baked earth as they dash across the plains, kicking up huge swirls of dust, is just amazing. We've been lucky enough to see this incredible event ourselves, and we're passionate about helping people to plan their trips around the migration. As safari experiences go, there's nothing that can touch it.
Although the exact route and timings of the migration change slightly from year to year, it is possible, with some careful planning, to be in the right place at the right time. You can see part of this story in action from a handful of safari lodges and, if you're completely mad about seeing the migration, it's possible to see the journey at different stages from different lodges.
We'll do whatever we can to get you a front row seat for what has been dubbed The Greatest Show on Earth, and here are some itinerary ideas to help get you started.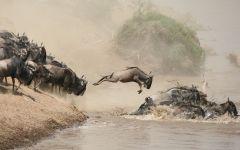 Why Book With Us?
Specialists in African Holidays
Friendly Expert Service
Hundreds of Special Offers
Tailor-made itineraries
Price Promise
No Credit Card Fees
We can book your flights
ATOL Protected
UK Based
Financial Protection


All the flights and flight-inclusive holidays on this website are financially protected either by ABTOT Combined or the ATOL scheme.
When you pay for something protected by the ATOL scheme you will be supplied with an ATOL Certificate. Please ask for it and check to ensure that everything you booked (flights, hotels and other services) is listed on it.
All packages that are not protected by ATOL are protected by ABTOT.
See our Terms and Conditions for more information about financial protection.