Safaris in the Greater Kruger Park
Big 5 Wildlife, Private Reserves and Luxury Lodges
If you're looking for really authentic safari experience in South Africa, there's no place like Kruger National Park. It's one of the world's great wildlife destinations, ranking up there with the very best that Africa has to offer. Here, you can watch the sun sink over the bush while you watch giraffes and elephants graze peacefully and take adrenaline-fuelled off-road safaris to track lion prides through the long grass at dawn. If you're after some on foot adventure, you can even try taking intrepid walking safaris through the park. It's the Africa of your imagination and it's there for the taking!
Covering a vast expanse of over 2 million hectares given over purely to conservation, Kruger is home to an immense diversity of wildlife featuring not only the Big 5, but some 490 different species of bird, 147 mammal species, 94 different reptile species, 33 types of amphibians and a magnificent array of over 200 different kinds of trees.
There are around 100 safari lodges located either within one of the handful of concessions in the Kruger National Park itself, or in one of the adjoining private game reserves on the western side of the National Park, such as the Sabi Sands, Timbavati, Balule and Klaserie. As if that wasn't enough, there are also nearby fenced reserves such as Thornybush and Kapama.
Staying at one of these lodges, you'll be treated to sunrise and sunset guided safaris in open-topped Land Rovers, giving you an incredible game viewing experience. You'll stop for scenic coffee or sundowners in the bush accompanied by your highly skilled ranger and Shangaan trackers and roam the plains in search in wildlife. There are no words to describe the thrill of this type of safari. It's something that will stay with you for life.
The safari lodges all take huge pride in getting their guests as close as possible to the animals and in the private reserves the guides are not restricted to the roads, meaning that you can head off-track into the depths of the bush in search of wildlife. This really is a safari like no other, as the guides and trackers can follow their professional hunches off road and give you the game drive adventure of a lifetime.
We've been to Kruger many times ourselves and we can't recommend it highly enough. We're familiar with all of the lodges that we offer and we'll happily talk you through the differences between them. This way, you'll get the safari holiday that you've always dreamt of. The only danger is that you'll leave wanting more!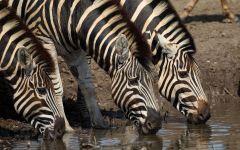 Kruger At A Glance
Iconic Wildlife Destination
Over 2 Million Hectares
Oldest/Largest Park In South Africa
Big 5 Safaris
147 Species of Mammals
517 Species of Birds
Wide Choice of Safari Lodges
Self-Drive Safaris
Malaria Area
Good Transport Connections
Special Offers
Selected Special offers for Greater Kruger
Confused?
It's great to have choice, however sometimes it can all be a litte confusing when you are planning your first trip to an unfamiliar area.
If you'd like to talk to one of our friendly experts, then please give us a call on +44(0) 1932 428380 or alternativley you can enquire via the website.
When to Visit
There is never a bad time to visit Kruger, but each of the two major seasons has it's advantages.
During the winter months of May to August, the temperature is cooler, and it is easier to find the animals as they tend to congregate around waterholes and rivers. This is also ofen the best time to find a special offer or lower price as a safari lodge.
During the summer months of October to April, heavy rain showers and storms are frequent. As a result of the rain, the grass is lush and green, and many animals give birth at this time as there is plenty of food and water around. The downside is that the lush green vegatation can make game viewing more difficult.
Find out more about when to visit Kruger.
Getting There and Away
There are excellent flight connections from Johannesburg to a number of airports near the park, and there are also regular direct flights from Cape Town and Victoria Falls.
If you are staying at a lodge, you may also be able to take a shuttle flight directly from Johannesburg to an airstrip in the park. Please ask us for details if you are interested in doing this.
If you have a hire car you can drive to Kruger from Johannesburg - it is a strightforward drive, but you would need to allow up to 6 hours for the journey.
You can find out more about the travel options here.
Top Tip: If you book with Travel Butlers, we will ensure you have the most appropriate transport arrangements for your safari.
self-drive safaris
Most overseas visitors choose to stay in a safari lodge to enjoy the wonderful game viewing and accommodation that they offer.
For anyone with an adventurous streak who is happy to drive themselves around the Park and stay in more basic accommmodation, an alternative option is a self-drive safari staying at rest camps.
the Lowveld
With attractions including the Blyde River Canyon, the well known 'Panorama Route', and some of excellent animal rehabilitation projects, there is plenty to do in the Lowveld area around Kruger.
Malaria Risk
The Greater Kruger Park is a malaria area, so we strongly advise that you check with your doctor to find out what malaria tablets you will need, and when you should commence the course.
If you do not want to have to take malaria tablets then have a look at our guide to safaris in malaria-free areas.
Holiday Ideas
Why Book With Us?
Specialists in African Holidays
Friendly Expert Service
Hundreds of Special Offers
Tailor-made itineraries
Price Promise
No Credit Card Fees
We can book your flights
ATOL Protected
UK Based
Financial Protection

All the flights and flight-inclusive holidays on this website are financially protected by the ATOL scheme.
When you pay you will be supplied with an ATOL Certificate Please ask for it and check to ensure that everything you booked (flights, hotels and other services) is listed on it.
All packages that are not protected by ATOL are protected by a an insurance policy underwritten by CBL Insurance Europe Limited.
You can find out more about financial protection in our Terms and Conditions.