Sabi Sands Game Reserve, Greater Kruger Park
unrivalled big 5 Game viewing
The Sabi Sands Game Reserve (sometimes referred to as the Sabi Sand Wildtuin) is the most famous and well established of the private reserves which adjoin the western boundary of the Kruger National Park. With no fences between the reserve and Kruger, the animals are free to roam through the African wilderness.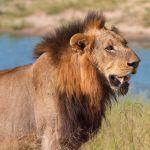 The 65,000 hectare reserve offers possibly the best game viewing opportunities to be found anywhere on the African continent - especially for sightings of the Big 5 (lion, leopard, elephant, rhino, and buffalo) - indeed, the reserve has one of the highest concentrations of leopard in the world. Cheetah, wild dog and some 200 other animal species also can be found here, as well as over 350 species of birds - in fact, almost 5% of the world's bird species have been recorded in this region of South Africa.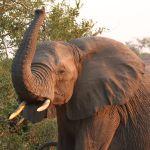 Open safari vehicles, seating between 6 and 12 visitors, head out into the wild under the expert guidance of experienced rangers and insightful trackers. Guests are able to get in close contact with Africa's most exciting wildlife species, and are presented with unparalleled photographic opportunities. Nowhere else in South Africa will you experience a safari quite like the one you will have in Sabi Sand.
Two rivers supply the game reserve with a valuable water source. The Sand River flows through the reserve for 50 km from north west to south east whilst the Sabie River flows on the southern boundary.
The lodges here are some of the finest safari lodges in South Africa, and the luxury accommodation with private plunge pools provide an elegant contrast to the rugged bushveld.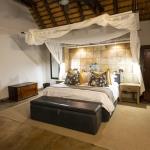 The lodge offers the choice of 6 luxury air-conditioned suites, which all have large wooden decks overlooking the bush, a spacious en-suite bathroom with double basins, and a private outside shower which is perfect for cooling off after a hot game drive. The glass fronted Honeymoon Suite offers romantic elegance, total privacy and a stunning view, as well as a private splash pool.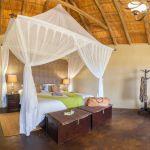 Safari Lodge
Guest Rating: 4.6 / 5.0 based on 8 ratings
The lodge sleeps a maximum of 14 guests in 7 chalets/rooms. The chalets have a small verandah with a sitting area, offering views over the African bush.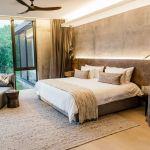 Safari Lodge
Guest Rating: 4.0 / 5.0 based on 1 ratings
Cheetah Plains strives to embrace a contemporary ethnic design, with 8 elegantly decorated chalets nestled into the indigenous gardens of the camp. The traditionally thatched accommodation blends seamlessly into the African bush, creating a harmonious flow between pampered relaxation and the raw South African bushveld.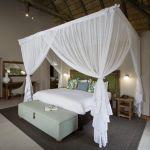 Safari Lodge
Guest Rating: 4.5 / 5.0 based on 10 ratings
The standard thatched suites each have a bathroom en-suite (with bath and separate indoor and outdoor showers), and a verandah for optimum enjoyment of the surrounding bush. Fabrics are natural, and the design simple and elegant.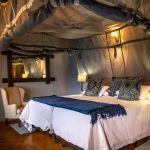 The lodge can accommodate a maximum of 12 people in 6 stylish yet homely en-suite thatched chalets that offer comfortability with a difference. All the bathrooms are individually decorated and are very spacious.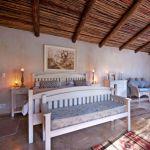 Safari Lodge
Guest Rating: 5.0 / 5.0 based on 2 ratings
With no electricity, candles and lanterns cast an ambient light to the elegantly styled private chalets after sunset. Each chalet has its own private veranda, and en-suite bathroom, some with outside showers.
Safari Lodge
Guest Rating: 5.0 / 5.0 based on 2 ratings
The 8 individually decorated chalets are all equipped with air-conditioning, overhead fans and mosquito screens for that touch of safari romance. Outside showers offer the perfect solution to a hot day.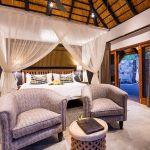 Each of the immaculately furnished en-suite thatched chalets and executive suites all have glorious river views. Each is equipped with air-conditioning, mosquito nets, telephone, and beautifully appointed bathrooms.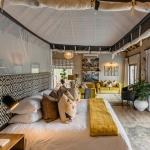 Safari Lodge
Guest Rating: 4.5 / 5.0 based on 2 ratings
Nestled inconspicuously among dense stands of knobthorn and jackalberry trees lie 7 individually hand crafted suites sensitively designed to blend with the environment and carefully positioned to enhance privacy. Sophisticated yet simple, each suite has spectacular views over the dry riverbed from the unique en-suite bathrooms and private viewing decks.
Safari Lodge
Guest Rating: 5.0 / 5.0 based on 2 ratings
The 10 luxurious rooms are built 'tree house' style to give a true feeling of being at the heart of life in the bush. All rooms and suites have air-conditioning and fans.
Loading...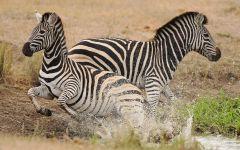 © Savanna Private Game Reserve
Sabi Sands AT A GLANCE
65,000 Hectares
Big 5 Safari Reserve
Famous for Lions and Leopards
Unfenced Border with Kruger NP
Game Drives in Open Vehicles
Bush Walks at Some Lodges
Malaria Area
Air Shuttle from Johannesburg
Scheduled Flights to Local Airports
Special Offers
Selected Special offers for Sabi Sand Game Reserve
Confused?
It's great to have choice, however sometimes it can all be a litte confusing when you are planning your first trip to an unfamiliar area.
If you'd like to talk to one of our friendly experts, then please give us a call on +44(0) 1932 428380 or alternativley you can enquire via the website.
Arriving By Air
There is an Air Shuttle service from Johannesburg that will fly you into a number of airstrips in the reserve - let us know if you are interested in this.
In addition to the shuttle service, there are two major airports that serve the Greater Kruger Area with scheduled flights: Kruger Mpumalanga International Airport (MQP) at Nelspruit and Hoedspruit Airport (HDS) near Hoedspruit.
Generally speaking you should try and fly into MQP, however for lodges that are accessed through the Gowrie Gate (numbered 1-6 on the map), you should fly into HDS.
MQP has direct flights to and from Johannesburg, Cape Town, and Victoria Falls.
HDS has direct flights from Johannesburg only.
Top Tip: If you book with Travel Butlers, we will ensure you have the most appropriate transport arrangements for your safari.
Arriving By Road
If you have a hire car you can drive to any of the lodges in the reserve, however you will need to make sure you enter the park through the correct gate.
Note that you must enter the reserve through the Gowerie Gate to get to the lodges in the northern part of the reserve (numbered 1-6 on the map).
There is a small cash entrance fee payable of R40 per person (R50 per person from 1 September 2013) to enter the Sabi Sand Game Reserve, and self-drive visitors must ALSO pay a R160 per vehicle (R190 per vehicle from 1 September 2013) entrance fee.
These fees are payable in cash at the gate on and are arrival subject to change. Please retain your receipt as proof of entrance and have it stamped at your lodge when you are leaving, as this acts as your Exit Permit.
Malaria Risk
The Sabi Sands Reserve is located in a malaria area, so we strongly advise that you check with your doctor to find out what malaria tablets you will need, and when you should commence the course.
If you do not want to have to take malaria tablets then have a look at our guide to safaris in malaria-free areas.
Holiday Ideas
---
---
Guest Photos
Why Book With Us?
Specialists in African Holidays
Friendly Expert Service
Hundreds of Special Offers
Tailor-made itineraries
Price Promise
No Credit Card Fees
We can book your flights
ATOL Protected
UK Based