Sabi Sands Game Reserve, Greater Kruger Park
unrivalled big 5 Game viewing
Sabi Sands Game Reserve is the definitive place for a classic South African safari. Sometimes known as the Sabi Sand Wildtuin, it is the most famous of the private reserves adjoining Kruger National Park, and for good reason. Covering over 65,000 hectares of wild bushland, it's one of the top game-viewing spots in not just South Africa, but on the whole continent. It's exclusive and exciting, so if you're after a truly world class safari, Sabi Sands will tick every box.
There are no fences dividing Sabi Sands from Kruger, meaning that the animals are free to roam between the two areas. This makes the reserve excellent for Big Five sightings, with lion, leopard, elephant, rhino and buffalo all wandering peacefully through its huge natural wilderness. Sabi Sands is also particularly famous for its leopard sightings and has one of the highest concentrations of leopard in the whole world. As leopard are notoriously elusive and tricky to spot, it's a perfect pick for anyone dotty about Big Cats.
Two rivers flow through Sabi Sands, providing valuable refreshment for thousands of animals. There's an abundance of waterholes in the reserve, which are popular drinking haunts amongst ambling giraffes, gazelles and elephant - to name just a few! Cheetah, wild dog and another 200 animal species have all made their homes in the reserve, as well as over 350 species of birds. In fact, almost 5% of the world's bird species have been recorded in this region of South Africa!
Unlike Kruger next door, Sabi Sands has no public roads for self-drive safaris and no day visitors are allowed. This gives the reserve a really exclusive atmosphere. The rangers are not restricted to the roads and tracks, so you can follow leopard, lion and elephant deep into the bush on your own off-road safari adventure. This adds a huge adrenaline rush to each game drive and provides some incredible wildlife sightings as well as jaw-dropping photo opportunities.
When you stay in Sabi Sands, you'll be treated to two heart-thumping game drives per day. Every dawn and dusk you'll set off into the bush in an open-topped vehicle to search for the Big Five in the African bush, stopping for sunrise coffee and sundown tipples. The game drives are led by expert guides and trackers, who will use their years of knowledge to give you close encounters with some of the planet's most incredible animals. Nothing quite compares to racing across bushveld and through thickets to find a pride of lions lazing under thorn trees or a herd of elephant crossing a river.
Sabi Sands is just as exclusive as it is exciting. There are only a handful of luxury lodges sprinkled over the 65,000 hectares of Sabi Sands, ensuring that you'll feel totally tucked away from the world. All of the lodges are beautifully styled and hugely atmospheric, providing an elegant contrast to the rugged bushveld, and many are brilliant value for money. Lounging in your own private plunge pool overlooking a waterhole or gazing out across the treetops from your balcony, you'll get a real sense of the romance of Africa.
Nowhere else in South Africa will you experience a safari quite like the one you will have in Sabi Sands. We can't recommend it highly enough.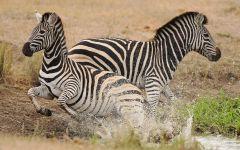 © Savanna Private Game Reserve
Sabi Sands AT A GLANCE
65,000 Hectares
Big 5 Safari Reserve
Famous for Lions and Leopards
Unfenced Border with Kruger NP
Game Drives in Open Vehicles
Bush Walks at Some Lodges
Malaria Area
Air Shuttle from Johannesburg
Scheduled Flights to Local Airports
Special Offers
Selected Special offers for Sabi Sand Game Reserve
Confused?
It's great to have choice, however sometimes it can all be a litte confusing when you are planning your first trip to an unfamiliar area.
If you'd like to talk to one of our friendly experts, then please give us a call on +44(0) 1932 428380 or alternativley you can enquire via the website.
Arriving By Air
There is an Air Shuttle service from Johannesburg that will fly you into a number of airstrips in the reserve - let us know if you are interested in this.
In addition to the shuttle service, there are two major airports that serve the Greater Kruger Area with scheduled flights: Kruger Mpumalanga International Airport (MQP) at Nelspruit and Hoedspruit Airport (HDS) near Hoedspruit.
Generally speaking you should try and fly into MQP, however for lodges that are accessed through the Gowrie Gate (numbered 1-6 on the map), you should fly into HDS.
MQP has direct flights to and from Johannesburg, Cape Town, and Victoria Falls.
HDS has direct flights from Johannesburg only.
Top Tip: If you book with Travel Butlers, we will ensure you have the most appropriate transport arrangements for your safari.
Arriving By Road
If you have a hire car you can drive to any of the lodges in the reserve, however you will need to make sure you enter the park through the correct gate.
Note that you must enter the reserve through the Gowerie Gate to get to the lodges in the northern part of the reserve (numbered 1-6 on the map).
There is a small cash entrance fee payable of R40 per person (R50 per person from 1 September 2013) to enter the Sabi Sand Game Reserve, and self-drive visitors must ALSO pay a R160 per vehicle (R190 per vehicle from 1 September 2013) entrance fee.
These fees are payable in cash at the gate on and are arrival subject to change. Please retain your receipt as proof of entrance and have it stamped at your lodge when you are leaving, as this acts as your Exit Permit.
Malaria Risk
The Sabi Sands Reserve is located in a malaria area, so we strongly advise that you check with your doctor to find out what malaria tablets you will need, and when you should commence the course.
If you do not want to have to take malaria tablets then have a look at our guide to safaris in malaria-free areas.
Holiday Ideas
---
---
Guest Photos
Why Book With Us?