Family Safaris
Enjoying a Family Safari in Southern and East Africa
Taking your children on a safari for the first time, and watching their faces as they see their first giraffe or zebra, is something that many parents would love to do.
Whilst just about every safari lodge is suitable for older children, children under the age of 12 are not catered for at many lodges and so families do need to make sure that they pick a lodge that will suit the whole family.
children on game drives
In general, the majority of lodges will not allow children younger than 5 to go on the long adult game drives. Each lodge, however, has their own rules, and you should check exactly what your children will be able to do at your chosen lodge when booking - finding out that your 8 year old cannot go out to see the animals at the lodge you have chosen when you arrive can ruin your whole family's stay if you did not know this in advance.
Many lodges featured below will offer chilldren's activity programmmes for kids that are too young to join the adults on the main game drives, whilst others will offer a babysitting service to look after the youngsters whild the adults go out on safari.
Another option that may be available would be to hire a private vehicle and driver so that the whole family can go out together. This will be an extra cost over and above the rate that you would normally pay.
Alternatively, in East Africa, using a private driver-guide is ideal for families, as not only does it bring the cost of the safari down (as you are on Full Board rates and you can avoid having to pay for a return flight for each family member), but there are obviously no age restrictions imposed.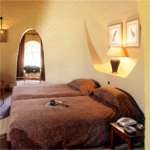 The lodge offers comfortable accommodation in 24 comfortable thatched rondavels looking up at the sweep of Ubizane Mountain. The chalets each have a fully equipped kitchen and all bedrooms are en-suite with ceiling fans.

Accommodation at Zululand Tree Lodge consists of luxurious thatched chalets raised above the floor on stilts. Each of the 24 luxury 'Tree Lodges' include an en-suite bathroom with shower, a kingsize double bed, a bar fridge, tea/coffee making facilities, and a private balcony with enchanting views into the surrounding forest.
Safari Lodge
Guest Rating: 4.0 / 5.0 based on 1 ratings
Migunga Forest camp offers 19 semi-luxury tents, all tastefully and simply furnished, and with a large attached bathroom set underneath a canopy of acacia trees. The tents each have their own raised platform with its own private veranda, allowing very personal privileged view of the surroundings.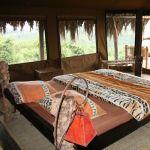 The 15 rooms are spacious and all have en-suite bathrooms with hot showers and toilets. For those chilly upland nights enjoy the warmth of your own African-style firepot.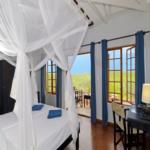 Safari Lodge
Guest Rating: 4.0 / 5.0 based on 1 ratings
Etosha Safari Lodge is situated on a hillock, offering magnificent views of the African bush savannah. All of the 65 double room chalets have air conditioning and mosquito nets, and a choice of 3 swimming pools between them.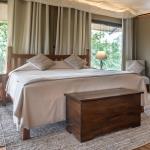 Safari Lodge
Guest Rating: 4.5 / 5.0 based on 2 ratings
The camp can accommodate a maximum of 30 guests at any one time. The tented rooms are raised up slightly on earth mounds, overlooking the river and the plains.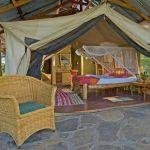 Safari Lodge
Guest Rating: 4.0 / 5.0 based on 1 ratings
Ikoma has 31 semi-luxury traditional meru tents each under thatch with its own en-suite bathroom, modern furnishings and a private veranda. The central restaurant and bar area boast a large camp fire - an ideal spot to unwind with a drink after a long days exciting game viewing.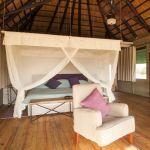 30 spacious tents are built on ample wooden decks, among them there are 2 units with 2 rooms interconnected, ideal for families with children. They all have en-suite facilities and a private veranda with 24 hours 220V electric lighting.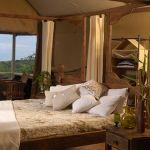 The accommodation at Kirurumu Lodge consists of 20 en-suite tented rooms, each one simply furnished yet still very comfortable. Each tent has a wooden veranda, which is a fantastic vantage point from which to view the sun setting over the valley below.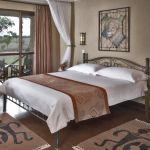 There are a total of 40 deluxe en-suite rooms in total, including some family rooms, plus 6 luxury safari tents too. The main guest areas at the lodge including an open sided restaurant, veranda deck, bar and lounge area are shaded by a canopy of acacia trees.
Loading...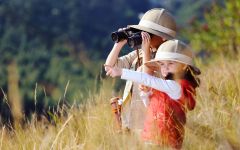 Kid's Programmes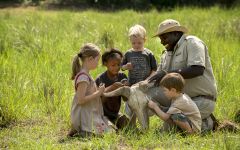 Many safari lodges, particularly in South Africa, offer special children's activities for their younger guests.
These obviously vary from lodge to lodge, but in general the majority of the will include a shortened game drive, bush walks in search of insects, footprints and animal dung, and traditional story-telling.
You can find out more and see a selection of lodges offering these activities here...
Malaria-Free Safaris
For families with younger children, a malaria-free safari destination may also be preferable, and South Africa offers a wide choice of family-friendly lodges across the Eastern Cape, Waterberg, Madikwe or Pilanesberg.