Gorah Elephant Camp
Addo Elephant National Park
Discover a place and time in tune with the authentic African safari of centuries past. This is Gorah Elephant Camp, the first private lodge in the Addo Elephant National Park.
This exclusive lodge has been restored to its former 19th century colonial splendour, complete with period furnishings, and a beautiful roaring log fire in winter.
Coupled with the meticulous service and attention to detail, this really is sheer decadence and a holiday memory that will stay with you forever.
Morning and evening guided game drives on open Land Rovers take you unbelievably close to elephants, rhinos, and other giants of the African bush. Some of the drives will be on the lodge's own concession, where your guide will have the opportunity to drive offroad to get you unbelievably close to the wildlife, but others may be in the Addo Park itself, where your ranger will be restricted to remaining on the road network at all times.
In-between drives, guests can relax around the rock swimming pool and sun-drenched decks.
Whether marvelling at the herds of elephants gathering around the waterhole near the camp, or having a close encounter with them while out on a game drive, the Gorah experience is unforgettable.
Your accommodation is in spacious and luxurious tented suites, which are reminiscent of the golden era of safaris in the early 1900s, yet with all the comfort and excellence associated with Africa's finest game lodges.
Sumptuous breakfasts and superb lunches are both served in the elegant dining room, or on the veranda overlooking the waterhole.
Dinner is by candlelight, further complimenting the romantic atmosphere of the Lodge.
Show Rates in
Our standard rates for a Luxury En-Suite Tent
Dates
Price
Basis
Rate Name
Nights

8 April 2015

to

30 September 2015

GBP

£

251

US$ 387

ZAR 4,520

EUR 347

pps
Standard Rate
1+ nights

1 October 2015

to

30 November 2015

GBP

£

324

US$ 500

ZAR 5,840

EUR 448

pps
Standard Rate
1+ nights

1 December 2015

to

19 December 2015

GBP

£

251

US$ 387

ZAR 4,520

EUR 347

pps
Standard Rate
1+ nights
Prices are on a per person sharing basis (pps).
Special offers for longer stays or when booked as part of a longer itinerary may apply - details on request.
---
All meals, sundowner drinks, soft drinks and morning/afternoon game drives are included.
Children aged 10 years and older are welcome. Rates available on request. Children are allowed on game drives with their parents.
Children up to the age of 15 are accommodated on luxury stretchers in their parents' suite (maximum of two children per suite). Toys, board games and special menus are available on request.
Parents are requested to ensure that their children's participation in no way detracts from the experience of other guests. Because of the proximity of large numbers of wild and potentially dangerous animals, unruly or disruptive behaviour not only negatively affects the quality of game viewing for others, it can also seriously compromise guest safety.
Children accommodated at Gorah are at all times the sole responsibility of their parents. ::
All of the holidays we prepare are tailor-made, but this might give you an idea of how Gorah Elephant Camp can be included in you own dream holiday.
Display Prices in
Suggested Itineraries
The Karoo Desert is a part of South Africa that many people pass through, but very few take the time to explore in depth. It's a region of fascinating local tradition, delicious food, endless views and thousands of gawky ostriches! This two-week trip will bring you both the best of the Cape and an unforgettable behind-the-scenes glimpse of the under-explored Karoo.

You'll begin your trip in Port Elizabeth, at the far end of the Garden Route, with sweeping views of the bay. Here, you can shake off the jetlag, lounge in the stunning sunken swimming pool and stroll through the frangipani-filled gardens. Next, you'll head to Addo Elephant National Park, where you'll stay in an luxurious tented suite that breathes the spirit of safari. At sunrise and sunset, you'll set out on thrilling game drives, watching dozens of elephant gather at the waterholes in the first light of day.

Next, you'll get your first taste of the South African Karoo. You'll stay at a traditional colonial Karoo homestead surrounded by a natural amphitheatre of mountains, deep within the Samara Private Game Reserve. You'll take game drives into the pristine wilderness and trek through the fragrant bush. After this, you'll continue to the Klein Karoo, staying in a beautiful country house just outside the quirky town of Oudtshoorn - the ostrich capital of the world. Here, you can visit the historical Cango Caves, stand on an ostrich egg and even watch the wacky local ostrich derby!

Once you've explored the Karoo, you'll turn towards the Cape, spending 2 nights in the enchanting Cape Winelands. You'll stay at an exclusive manor house and well-known winery, where your private patio will overlook endless rows of vineyards ripening in the sunshine. Finally, your trip will end in Cape Town, one of the most beautiful cities in the entire world.


14 day itinerary.
*Prices are per person and are based on today's exchange rates. Exchange rates are subject to change and are updated daily.
Prices exclude international flights - ask us if you would like to include these.
Guest Rating: 4.5 / 5.0 based on 6 ratings
Firstly let me say a big thank you to you for your help with our arrangements. Everything you suggested for us worked out so well and we had a holiday of a lifetime ! Gorah was a once in a lifetime experience The whole thing was just wonderful. The tents are so luxurious and the attention to detail on every front was simply unbeatable. Worth every penny! All the little touches made the guest feel very special indeed. The food was excellent. All the staff were just perfect. The safari drives were very informative and exciting with such well informed guides. It really was most memorable Well, there you are Tracey, I just wonder why it took us so long to visit South Africa! I suppose all the crime stats one reads can put people off, but we, in our mid 60's, drove over 1000 miles and never felt threatened It was a wonderful varied experience, and we cannot wait to go back! On the way we passed on the name of your company to quite a few people and shall certainly recommend you to anyone planning to go to S A.
C TUCKER
All I can say is a big 'thank you' - the holiday was absolutely fantastic and we had a wonderful time. The accommodation was all excellent and the people we dealt with were very friendly and helpful. The absolute highlight would have to be Gorah ... it was an truly magical experience. The staff at Gorah were superb and the quality of the game drives was outstanding - very informative, the rangers were top class and the elephants are truly magnificent. I have always been a big cat person until those drives - I am now a convert!!! The route we followed took us through some amazing scenery and Cape Town is such a beautiful city - we will definitely be going back some time soon (Gorah included) and I will certainly use you guys again. So - thank you again for organising the accommodation and the car hire - it was a fantastic holiday and one we will remember for a long, long time.
D BRAIN
All went very smoothly. Had an amazing time – really the holiday of a lifetime for us – so far at least.  Sante Winelands Hotel is absolutely outstanding – they upgraded us to a "Manor Room" and it really is the most amazing location for relaxation, the Spa was fab.  Hog Hollow in Plett was fantastic. Andy, the owner was extremely helpful, sent me to his brothers bar for the Ireland vs SA match etc! We had 5 great nights there and room was great (one of the 3 new cabins). We managed to do something different and great every day. Food is also very good there. Gorah was what you'd expect! It was the highlight of Catherine's trip as she loved the drives. Food was good, accommodation lovely – very worthwhile.
A HALPENNY
General Information For Guests
Please note that Gorah runs on solar power.
Directions
From The Garden Route/Port Elizabeth: Take the N2 towards Grahamstown. DO NOT take the R355 to Addo. Bypass Colchester, then take the N10 (north) to Paterson. Approximately 4 km after this intersection, turn left into Addo Road (gravel) - Gorah is signposted. Follow this road for 9 km. The Gorah Gate is on your right. The lodge is approximately 10 km from the Gorah Gatehouse, which will take about 30 minutes to drive along the dirt roads. Directions will be given to you at the Gorah Gatehouse.
Do not get out of your car until you reach the lodge. You may see some wildlife on your way - if you do, slow down and maintain a good distance. Do not drive off-road in any circumstances.
From Grahamstown/Eastern Cape Game Reserves: Take the N2 towards Port Elizabeth. Then follow directions as above when you get to the N10.
Popular Alternatives to Gorah Elephant Camp
These are the top properties booked by people who considered staying at Gorah Elephant Camp, but for one reason or another booked a different property. It may have been that Gorah Elephant Camp was not available on the nights they wanted to stay, or they decided that somewhere else was better suited to their budget or itinerary.
If you're not sure which place might be best for your own trip then either give us a call or get in touch via the website, and we'd be delighted to run through the options with you.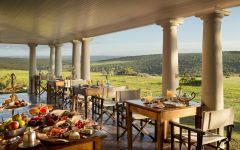 Location
Top Rated Property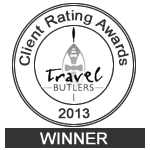 Gorah Elephant Camp was one of the top rated properties in our 2013 awards.
The awards are based on the ratings that clients of Travel Butlers give after their stay, and Gorah Elephant Camp had an average score of 4.8 out of 5.
See All of the 2013 Award Winners
Guest Photos