Addo Elephant National Park
Self-Drive Safaris or the luxury of a Private Lodge
The Addo Elephant National Park is only a 60 minute drive from Port Elizabeth. This malaria-free National Park is one of the more scenic National Parks in South Africa, with rolling green hills covered in thick, lush vegetation, most of it evergreen, so it is attractive at whatever time of year you visit.
The Park was established in 1931, when a small area of land was set aside to protect the African elephant population of only 11 left in the area.
Today, it is home to over 450 elephants, who roam freely across the now 180,000 hectare reserve alongside the rare black rhino, lion, buffalo, kudu and red hartebeest, as well as over 400 bird species.
Addo has the greatest density of elephant per square kilometre in Africa, and offers some wonderful elephant viewing opportunities.
Many visitors to Addo do a self-drive here, as this gives you the freedom to explore the Park at your own pace. The Park is open from sunrise to sunset.
The road network in Addo is very good, and it is possible to drive around in a normal 2WD saloon car - but the elevation offered by a 4WD vehicle does have the advantage of being able to see over bushes!
You can also join a guided game drive led by a knowledgeable, qualifed guide. These depart at different times throughout the day from the main reception area - please note that it is advisable to book these drives in advance, especially during the high season. Drives can be booked by emailing addoenquiries@sanparks.org.
The game drives tend to last around 2 hours, and are conducted in open top Land Rovers or trucks, depending on numbers.
Because this is a National Park, all visitors are restricted to the road network, whether they are driving in their own car or on a guided game drive.
Many people choose to stay in one of the nearby excellent guest houses or hotels, located outside the Park, but which are only a short drive away from the main entrance gate.
It is also possible to stay in the Park overnight, which offers the opportunity to drive into the Park early before the other day visitors start arriving.
The popular Main Rest Camp offers a wide variety of self-catering accommodation units to suit all budgets, and a unique feature here is the waterhole lookout point, which is floodlit at night, as well as an underground hide, allowing close encounters with wildlife at the waterhole.
The more luxurious way of staying in the Addo Elephant National Park is to stay in one of the private lodges - Gorah or Kuzuko - which are situated in private concessions within the Park boundaries.
The advantage of staying at one of these lodges is that your game drives will be with experienced rangers, who are allowed the freedom of driving off road on the private concession land, and who also have access to parts of the Park that self-drive visitors are not allowed in.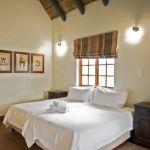 National Park Camp
Guest Rating: 4.2 / 5.0 based on 13 ratings
The accommodation in the Addo National Elephant Park is in comfortable and well-appointed guest houses, rondavels, cottages, forest cabins and chalets. The guest houses and rondavels all overlook a floodlit waterhole.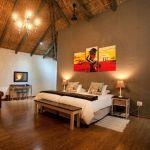 Guest House / B&B
Guest Rating: 4.1 / 5.0 based on 7 ratings
Experience true African accommodation when staying at Chrislin African Lodge in traditionally built mud huts located on an eco-friendly farm, just 12 km from the main gate of the Addo Elephant National Park.Each hut is constructed with mud and dung, and offers spacious and comfortable eco-friendly accomodation.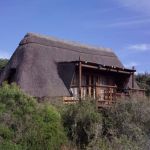 Matyholweni, which means 'in the bush' in Xhosa is located near the coastal town of Colchester at the Sundays River Mouth, just 3 km off the N2 highway, Matyholweni is easily accessible and provides a second gateway into the Park. Amenities such as shops, restaurants and a fuel station are available in the nearby town.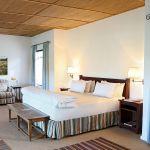 Guest House / B&B
Guest Rating: 4.8 / 5.0 based on 4 ratings
The very spacious Cape Country style cottages all have reeded ceilings and private verandah. Two of them are family suites with a separate interleading bedroom for the children.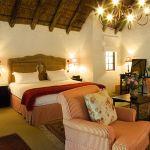 Guest House / B&B
Guest Rating: 4.2 / 5.0 based on 6 ratings
The decor at the Elephant House evokes colonial and African images and is furnished with the owners' private collection of antiques, Persian rugs and Africana art. The 9 spacious bedrooms open onto courtyards and private verandas.
Loading...

.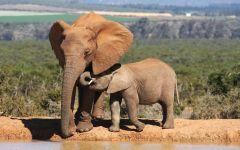 Addo AT A GLANCE
180,000 Hectares
Big 5 Safari Reserve
45 Minutes Drive from PE
Malaria Free
Over 450 Elephants
Self-Drive Safaris
Wide Choice of Accommodation
Guest Photos