Amakhala Game Reserve, Eastern Cape
game Drives, guided walks and river cruises
The Amakhala Game Reserve began in 1999 as a joint conservation venture between the owners of 6 lodges who are direct descendants of the original Frontier settlers some 5 generations ago, and who arrived in the Eastern Cape with the British settlers of 1820.
Today, Amakhala Game Reserve is a unique conservation initiative that allows animals to be re-introduced to the area where they once roamed freely and so making a contribution to the conservation of the natural heritage.
Steeped in history and beauty, this 7,200 malaria-free hectare game reserve is an ideal environment for an unforgettable safari in a varied landscape, including breathtaking views of the Bushman's River, and guests here can enjoy a range of morning and evening safaris and other activities.
Go on game drives in an open Land Rover in search of wildlife including rhino, lion, elephant, cheetah, buffalo, giraffe, black wildebeest, zebra, and over 16 antelope species, or take a night drive with cheese and wine sundowners before searching for elusive nocturnal animals; relax on a slow river cruise down the Bushman's River; or take a guided walk with one of the qualified rangers.
The reserve is located either side of the main N2 highway, so at some point during game drives, most guests should be prepared to be faced with a view including a coach or a red Toyota hire car driving down the N2!
There are a choice of 4* and 5* lodges on the Amakhala Reserve, ranging from traditional safari lodges to gracious colonial country houses and tented camps.
Children of any age are welcomed at Woodbury Lodge, Leeuwenbosch, Hlosi, HillsNek and Woodbury Tented Camp, and Hlosi and Leeuwenbosch run specific Childrens Programmes for their younger guests too. Bush Lodge, Reed Valley Inn and Amakhala Safari Lodge can accommodate children over 9 years old. Bukela will only accommodate children over 12 years old.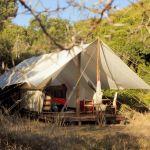 Safari Lodge
Guest Rating: 5.0 / 5.0 based on 1 ratings
Relax on your own private deck, and if you are lucky you may see an elusive bushbuck or hear the cry of the African fish eagle. Each en-suite tent is equipped with military campaign style furniture similar to that used by the early explorers.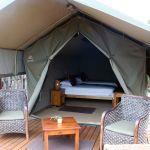 Safari Lodge
Guest Rating: 4.3 / 5.0 based on 18 ratings
The Woodbury Tented Camp is set in the heart of the reserve, and the tranquil surroundings of the open bushveld allow you to truly experience a quiet getaway. The centre of the camp is an airy, thatched entertainment area, where you can soak up the African sun.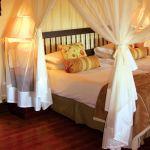 Safari Lodge
Guest Rating: 5.0 / 5.0 based on 5 ratings
The 4 comfortable en-suite bedrooms at Reed Valley Inn are positioned in the tranquil working farmyard just on the outside of the reserve's game fences, and are completely separate from the main homesteads to ensure guests' peace and privacy. All meals are taken at Bush Lodge, which is about a 5 or 10 minute drive from Reed Valley Inn into the reserve.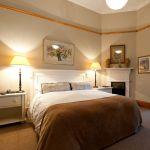 Accommodation at Leeuwenbosch includes the historic Country House and the newer Shearers Lodge Suites. The Country House, built in 1908, offers 5 spacious en-suite bedrooms, and is layered with a collection of historical images, documents, and furniture dating back to the 1800s.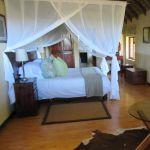 Designed with great care to blend in with the natural surroundings, the 6 thatched stone sleeping lodges are comfortably appointed, with en-suite bathrooms, and each boasts a unique and breathtaking view from their wooden decks. There is a central dining room and barbecue area, plus a lounge bar and swimming pool for guest's enjoyment in-between game drives.
Loading...

.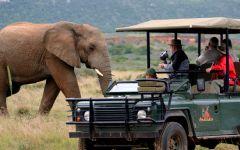 Amakhala AT A GLANCE
7,200 Hectares
Big 5 Safari Reserve
50 Minutes Drive from PE
Malaria Free
Game Drives in Open Vehicles
Bush Walks and River Cruises
3*, 4* and 5* Lodges
Special Offers
Selected Special offers for Amakhala Game Reserve
Holiday Ideas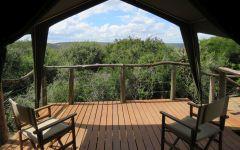 Amakhala Game Reserve, Cape Town, The Cape Winelands, The Klein Karoo and The Garden Route.
14 day itinerary.
Prices from GBP £ 699 US$ 1,161 ZAR 12,235 EUR 846 pp*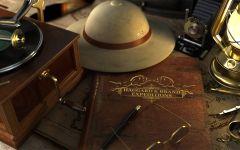 Amakhala Game Reserve and Cape Town.
7 day itinerary.
Prices from GBP £ 720 US$ 1,194 ZAR 12,592 EUR 871 pp*
Amakhala Game Reserve, The Garden Route, Hermanus, Cape Town and The Cape Winelands.
13 day itinerary.
Prices on request
Guest Photos
pack for a purpose
Amakhala Game Reserve supports Pack for a Purpose, an initiative set up to enable travellers to make meaningful contributions to help meet the needs of the places they visit.