Camp Okavango
Okavango Delta
Camp Okavango is situated on the remote Nxaragha Island in the heart of the permanent Okavango Delta, assuring a year-round water wilderness experience. Camp Okavango's unashamed luxury blends with the Africa of old in the elegant thatch and lethaka main lodge buildings.
Exploring the Okavango by mokoro, specially adapted boats or guided walking excursions on the islands surrounding Nxaragha Island will allow every visitor to the region the opportunity to truly experience what the Okavango Delta is all about.
The elegant thatch and lethaka main lodge building, shaded by giant mangosteen trees, features a cocktail bar, lounge and wildlife reference library. The dining room leads onto an expansive open-air patio for evenings around the fireside offering guests a chance to view the stars beneath the crystal clear skies of Botswana.
Other facilities include a secluded bird-viewing hide and a sun-kissed deck with plunge pool for relaxing during the hot midday hours.
Camp Okavango accommodates only 24 guests in intimate exclusivity in East African-style safari tents, individually situated on raised teak platforms with en-suite facilities and private viewing decks.
For those who demand the ultimate in exclusivity, Camp Okavango boasts the Okavango Suite, a thatched cottage offering complete privacy - ideal for honeymooners.
All meals; refreshments, local spirits and wines (excluding premium brands); scheduled shared activities; Park fees; and a laundry service are included.
Children aged 16 years and older are welcome. Rates available on request.
Directions
Access is via light aircraft - rates on request.
Popular Alternatives to Camp Okavango
These are the top properties booked by people who considered staying at Camp Okavango, but for one reason or another booked a different property. It may have been that Camp Okavango was not available on the nights they wanted to stay, or they decided that somewhere else was better suited to their budget or itinerary.
If you're not sure which place might be best for your own trip then either give us a call or get in touch via the website, and we'd be delighted to run through the options with you.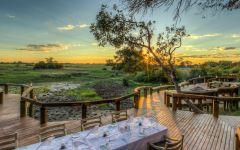 Location
Guest Photos