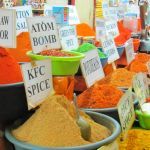 Nearly 3 million people live in Durban today, and its population is growing faster than almost any other city in the world.
Durban is also home to the largest population of Indian descendents in South Africa, whose ancestors were originally shipped to the region in the 19th century as slaves. Nearly 1 million Indians live in Durban today.
It is not surprising, therefore, that the city is renowned for its aromatic spice markets and delicious curries - reputed to be some of the best in the world outside of India itself.