Guest Comments
What people say about Travel Butlers
At Travel Butlers we are passionate about Africa and committed to giving the best possible service to all our clients.
This is a selection of the recent feedback that we have had from our clients (and you can also see a selection of photos taken by our clients here):
Client Rating for
Travel Butlers Ltd
:
4.8

/ 5.0 based on

876

ratings
We just returned from our safari trip and we had an amazing time. I just really want to thank you for all your help and attention in helping us book this experience. We were completely overwhelmed with all the options and would not have been able to book it on our own. Shindzela and Africa on Foot were amazing to us and we couldn't have asked to be treated better. I will recommend your services and their camps to anyone and everyone who asks.
J NEIVA
Thank you for an amazing service and I will for sure contact you when needed again!
D STUPAR
One of the most memorable holidays I had. Safari was awesome and have been recommending to everyone. I have also suggested to some to go via Travel Butlers as Natasha was fantastic and exceeded our expectations on all the choosen lodge and hotels. Merville Beach - the entertainment in the evening esp the Fri/Sat was very good just wished during the week it went on beyond 10.30pm.
R BULSARA
We had the most fantastic holiday and we can't thank you enough for what you did.
N SMITH
Amazing holiday. All arrangements went very smoothly thanks to your attention to detail. If we are able to travel again to SA we will certainly be in touch, and have already recommended your company to various friends.
S SADLER
So from beginning to end it has been a pleasure dealing with Travel Butlers again - thank you.
M VINER
All 3 hotels were excellent. Car hire, flights and all the details were also faultless. So from beginning to end it has been a pleasure dealing with Travel Butlers again - thank you.
M VINER
The service from Tracey at Travel Butlers was outstanding. Nothing was too much trouble. The advice we received from her when planning the itinerary resulted in us enjoying our holiday to the full.
R LEACH
We had such a fantastic time! We were so sad to be coming home! It's such a beautiful country and everyone is so friendly! The safari was amazing and our guide Francis was like superman with his expert vision and knowledge on every animal! He had some amazing facts a stories to tell us! At Keekorok we even had a hippo grazing outside our room! :) We just found it so sad at how quiet Mombasa (Diani resorts) is at the moment with the lack of tourists, it was such a wonderful place! We had a beautiful suite at Pinewood with fresh flowers everyday and they even made us a honeymoon arch! We are going to start trying to save to go back! Thanks so much for all the work you put in and making our honeymoon simply AMAZING! We couldn't have asked for it to be any better!
J HALE
It was a wonderful experience. Every aspect of the trip was organised smoothly, our dietary requirements taken care of, our hotels chosen with utmost care. I couldn't be happier and more grateful.
D BHARTIA
Thank you. We had a great holiday, helped by good weather and the great exchange rate. The organisation, car hire and choice of accommodation worked really well.
P WILLIAMS
We would highly recommend Travel Butlers, everything was extremely well organised and a first class holiday beyond our expectations, thank you.
Z GRIFFITHS
We had a fantastic holiday and this was in large measure down to the super efficient organisation. A really great package of events. Thank you!
P CASSIDY
We had a wonderful holiday, and thoroughly enjoyed every bit of it!
C ROBINSON
A fantastic holiday - thank you.
N OATES
I wanted to contact you personally now that we are back in England to say 'thank you' for putting together a fantastic holiday. From start to finish, our time in South Africa was simply stunning. We really can't thank you enough for our holiday and we are already planning where to go next year. it is looking like being somewhere in Africa...maybe Botswana. We will certainly be back in touch with you.
M BENNION
We had a WONDERFUL time, and your help was invaluable. We especially loved Rissington Inn. We could not have been in a better setting for our first two nights, and especially that it included dinners. Our flights were smooth and we loved the little airport in Nelspruit. Everything was done by you promptly and with thoughtfulness. Thanks so much.
E PONET
We had a fantastic holiday which most certainly met our expectations. We have done two previous safaris, which were in the Eastern Cape, but the Timbavati reserve outclasses those by far and is the real thing. Everything was professionally organised and we would have no hesitation in booking with you again.
S HOMER
Kwandwe was mind blowing - a very special place. Service from Travel Butlers staff was excellent and we would definitely book with you again. Thank you.
M BRIFFA
Travel Butlers were fantastic and even with the initial flight glitch sorted us out perfectly. Everyone should go to SA, what an amazing country!
A MCLAREN
A fantastic trip, well suited for us as a family. This is the first time we have ever travelled on an arranged holiday, previously having organised ourselves. However, with a safari being outside of our experience, we adopted this approach and it worked very well. We would definitely recommend Natasha/Travel Butlers to others.
D HUDSON
All the destinations and travel connections were excellent. We were treated like royalty wherever we went. A wonderful experience that we would unhesitatingly recommend to others.
M JENNINGS
All options are completely superb. All drivers during transfers have been really friendly and professional. Protea Hotel is a fantastic option for families and Gomo Gomo is an unique site for children. Congratulations for your excellent work and organization.
L MARTINEZ
We were very pleased with all the accommodations. Service was excellent and no problems were encountered. Natasha did a great job designing and organizing our safari. We very much appreciate her efficiency and resourcefulness. Our thanks to you for making our arrangements so efficiently and keeping me informed throughout. We would certainly recommend you and Travel Butlers to friends.
J DELAND
The service provided by Travel Butlers (Natasha) was excellent. We both work in the travel industry so are well placed to recognise great service. Thank you for everything and we'll be certain to recommend you in the future.
K DUNCAN
We had such a lovely holiday. All the accommodation that you recommended to us was perfect for our needs and [Gomo Gomo] gave us a really intimate safari experience. The managers at Diamond House were very welcoming and it felt like a home from home. We always felt safe and they gave us great restaurant recommendations and booked tours for us. Nothing was too much trouble. Thank you Natasha for arranging such a good holiday.
K GREVESON
An amazing trip. Everything was beautifully organised with attention to detail. Transfers between airports and lodges were easy with someone always to meet us and see us through to our flights. At both lodges the staff were fantastic making our trip very special. We were treated like special friends rather than another couple of tourists. Travel Butlers had passed on our requests for a bird guide and we had 2 excellent guides. At Kapani even though they had been hit by a big storm they gave us a special dinner for our 25th wedding anniversary. We are still coming back down to earth, especially after seeing the wild dogs which was the reason for our trip to Zambia. The best holiday we have ever had and we don't think it will ever be surpassed. Thank you so much to everyone.
C PIPER
My wife and I have travelled independently (booking on line) for the last 15 years. The experience with Tracey and Travel Butlers has changed that. From the outset, nothing was too much trouble and the guidance and understanding in providing the right itinerary at the right price was absolutely amazing. We had the holiday of a lifetime and absolutely everything was tailor made to suit our needs. Every single element had the appropriate voucher or ticket bookings in date order. We had seven flights in all and four transfers to and from our accommodation. Everything was like clockwork, everything was as agreed. I cannot praise or recommend Tracey and Travel Butlers highly enough and I've already sent on their details with a glowing recommendation to work colleagues. I'm extremely fussy about standards of service - you simply won't get any better than Travel Butlers.
P CORRIGAN
We had a fantastic time! Natasha organised the trip to the finest detail. The safari at Kapama Buffalo Camp was the highlight of the trip by far. Thank you so much for our family holiday of a lifetime. I will most definately recommend Travel Butlers to my friends and family.
S BALL
Thank you for the excellent service provided, even more considering such a short lead time. The camp [Ilkeliani Camp] was exactly what I was looking for, with the right balance of quality and service. Major advantage of the camp is the little bridge over the river that limits the reserve. This way, just by crossing it on foot to the vehicles on the other side, already in the reserve we are able to start the safari right away. By this we save a good 30m each way between the camp and the reserve, which is an extra hour for relaxing we have per day. The balloon ride was also a success. So overall I enjoyed a lot every moment. I am surely recommending your services.
A SANTOS
Everything worked extremely well and Natasha was fantastic. Thank you for all of your help. Thank you also to Tracey who was great at picking up things when Natasha was absent. We had a great time and look forward to planning our next trip!
D HARRISON
Very well organised by Natasha - it was truly an amazing holiday, many many thanks for organising this for my family. As I may have told you I did a similar trip with Trailfinders but must say the service from Travel Butlers far exceeded Trailfinders, have already recommended you. Once again many thanks for a truly well organised and memorable holiday.
D SCHOFIELD
Tracey, thank you for your help arranging our travel in South Africa. We truly appreciate it. We had a great time and would go again.
P INKOULOVA
Our sincere thanks and appreciation to you for your assistance, and expert planning, of our recent trip to South Africa. It truly was the holiday of a lifetime. You not only succeeded in making an old man happy but also the entire party of 3families. Everything went according to plan - YOUR plan and resulted in a wonderful holiday.
E LEYSHON
Excellent service and great planning and patience from Tracey. Thank you for a wonderful holiday.
S SHAH
All services provided from Travel Butlers and Phinda Forest Lodge exceeded my expectations and provided for an outstanding experience!
S BURNS
Your post departure support was excellent - assisting us over the first weekend when BA delayed our London departure by 20 hours, booking an alternative camp mid-safari and reconfirming our transfers when needed.
P O'FLAHERTY
So everything you recommended for us was flawless. I am grateful for your patience and the time you took answering all my silly anxious questions while planning our journey. Tracey, you did a marvellous job of booking this trip for us and we are so grateful. I have already started raving about Travel Butlers.com with everyone I know, I am planning to write comments on Trip Advisor about the quality of your services.
L BURGUNDER
The choice of venues and locations made the holiday very enjoyable and this is a country we definitely would like visit again. The information you provided made it easy for us to go from one place to the next with no problems and everything went without a hitch. Thanks very much for putting together such an excellent holiday.
S TILL
Just wanted to say thanks...the whole experience was grand. I had a wonderful time and was happy with all the pieces of the puzzle that made it that way. Nice job! Sure appreciate your service!
A KASPARIAN
This is the third time I have used Travel Butlers to organise our African holiday and once again you have not let us down! Thank you so much again for all of your hard work in booking everything for us. The whole Travel Butlers process is so stress free from beginning to end. The information packs are fantastic and you really looked after us.
K CARLIN
We had a wonderful time in SA. The accommodation was perfect in terms of variation and quality of experience. Everyone was very welcoming and Angie wanted to bring Bradley, the Cullinan concierge home with us, his manner and service were second to none. A township tour was an exceptional and educational experience to be recommended. Amakhala was great, we had a really knowledgeable and patient ranger with a wicked sense of humour in Jamie and the food was excellent. All in all a thoroughly great experience so thank you for all your help, I will recommend Travel Butlers to anyone I know who might wish to go to SA.
D ADAMS
We really liked the camp and thought it good value for money with a can do, customer first attitude. The tents were brilliant and food good too. The safari guide was good and we saw nearly all the animals we wanted. Was fantastic, thank you so much will definitely use Travel Butlers again! Tempted to go back to Wildside as it was awesome and great VALUE!
E CRANE
The arrangements were all impeccable and the venues stunning. We had lots of very memorable experiences and some 'Welcome to Africa!' moments (but not too many). I am very glad that I found Travel Butlers when I was researching for this trip. Please thank Anneli for doing such a fantastic job in putting the trip together to meet our needs.
M VINER
Overall a superb package - we had a fantastic time and in the right circumstances, would we love to return to SA. All accommodation was of a high standard and in good locations for exploring local areas. Client information more valuable. Excellent support from Natasha throughout - thank you very much. Have already recommended Travel Butlers to friends!!!!
D STEELE
Well what can I say, South Africa is such a beautiful country and we had the most amazing holiday! We had such a fantastic time that it is hard to say what we enjoyed the most. One of the highlights has to be Shamwari, it was absolutely brilliant. We saw all the Big 5 and more. We've never been so keen to get a 'wake up' call at 04.30am!! Eagles Crag was wonderful, pure luxury in a gorgeous setting and the staff made you feel so welcome from the moment you arrived. All in all it was an experience we will never forget and one that I wish everyone could have. Thank you once again for all you help and advice on South Africa we really did appreciate it and if any of our friends decide to go there we will have no hesitation in recommending Travel Butlers to them, your customer service is excellent.
Y MIDDLETON
We had the most wonderful holiday, thank you! We really want to thank you for your assistance in finding us great places to stay. Entabeni was great - really friendly staff, very comfy beds, lots of lovely food and a really warm and relaxed atmosphere. Going to bed with the sound of the hippo grunting below our balcony and waking up to see impala outside our room was really memorable. The rangers knowledge and passion for their work and South Africa's wildlife really came through - the game drives were always fun and informative and we were very lucky to see a huge range of animals - lions, cheetah, elephants, rhino and many more.
C HURLEY
We had a wonderful trip. Everything went great! Thank you for being so thorough!
K WILLIAMSON
Natasha at Travel Butlers was extremely helpful all the way through, her help made a big difference to us planning an enjoyable honeymoon.
B WAGSTAFF
After our safari, my husband and I are dying to do another, but probably in Kenya or Tanzania. It won't be for another year or two, but I'll definitely come to you for our next trip to Africa! Thank you for all your help, we had such a wonderful holiday.
J DOUGLAS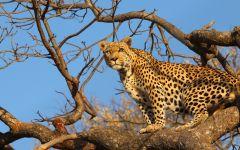 Why Book With Us?
Specialists in African Holidays
Friendly Expert Service
Hundreds of Special Offers
Tailor-made itineraries
Price Promise
No Credit Card Fees
We can book your flights
ATOL Protected
UK Based
Award Winning Service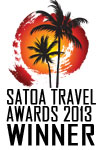 Travel Butlers were delighted to win the SATOA award for Best Tour Operator in 2012 and 2013.
Many thanks to everyone who voted for us.
Financial Protection

All the flights and flight-inclusive holidays on this website are financially protected by the ATOL scheme.
When you pay you will be supplied with an ATOL Certificate Please ask for it and check to ensure that everything you booked (flights, hotels and other services) is listed on it.
All packages that are not protected by ATOL are protected by a an insurance policy underwritten by CBL Insurance Europe Limited.
You can find out more about financial protection in our Terms and Conditions.