North West Province Safaris
Malaria-Free Safaris in Madikwe and Pilanesberg
Only a few hours drive from Johannesburg are the malaria-free game reserves of the North West Province. The Madikwe Game Reserve and the Pilanesberg National Park are ideal safari destinations for visitors to Jo'burg or Sun City who want to see some of Africa's spectacular scenery and wildlife without the worry and hassle of taking anti-malaria tablets.
The private Madikwe Game Reserve is one of the largest reserves in South Africa, and offers visitors a choice of excellent lodges, coupled with daily game drives to seek out Africa's Big 5, as well as other wildlife such as wild dog, giraffe, zebra and antelope.
Pilanesberg is an attractive National Park which is centred around an extinct volcano crater. Ideally suited to self-drive visitors who are staying in either Sun City or Johannesburg, there are also a couple of private lodges and safari hotels here which offer guided game drives to their guests.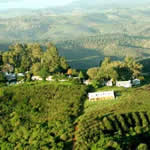 Each of the 41 luxurious rooms have a private patio and mountain view, and most feature a fireplace for the occasional chilly evening.There is an outside pool as well as a heated pool.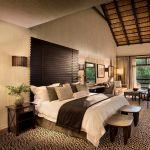 Safari Resort
Guest Rating: 4.5 / 5.0 based on 2 ratings
Each of the lodge's rooms have been decorated to reflect the mood and ambience of the bush and have the necessary amenities to ensure supreme comfort. All rooms have satellite TV and direct dialling phones, air-conditioning, en-suite bathrooms, electric shaving plugs, tea/coffee making machines and a hair dryer.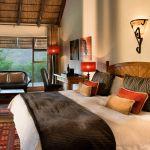 Safari Resort
Guest Rating: 4.0 / 5.0 based on 1 ratings
All the necessary comforts have been taken into consideration when furnishing the 90 en-suite rooms.All rooms have air-conditioning, satellite TV, direct dialling phone, tea/coffee making machines and a hair dryer.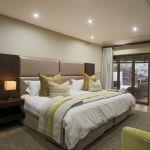 Safari Resort
Guest Rating: 4.7 / 5.0 based on 3 ratings
The lodge offers 57 spacious standard suites and 3 executive suites. Each features a private veranda, a sitting area, en-suite bathroom with outside shower, mini bar fridge, air-conditioning, and tea/coffee making facilities.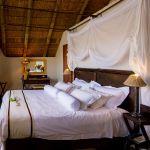 Safari Lodge
Guest Rating: 5.0 / 5.0 based on 5 ratings
The decor and furnishings of the 30 rustic thatched chalets are African-inspired. All rooms are equipped with both air-conditioning and ceiling fans.
Loading...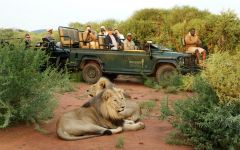 AT A GLANCE
Malaria Free Region
Big 5 Safaris
Private Safari Lodge Experience
Self Drive Option
Combines well with Sun City