The Bush House
Madikwe Game Reserve
The Bush House is an old homestead in the western part of the malaria-free Madikwe Game Reserve, which is more like a home than a hotel. This charming game lodge has a lot of history and many stories to tell.
The Madikwe Game Reserve boasts 75,000 hectares of Big 5 game viewing territory.
As well as elephant, lion, leopard, rhino and buffalo, the reserve is also home to wild dog, cheetah, plains game including gemsbok, springbok, zebra and giraffe, and over 340 species of birds.
The Bush Home accommodates just 10 people in double rooms, which are simply decorated but equipped with air-conditioning, mosquito nets and percale linen.
The veranda and garden overlook one of the best waterholes in the reserve and often the sightings are as exciting as they are on a game drive.
The service is friendly and warm, and the total experience is like being in a good friend's home.
Add To Wishlist
Enquire Now
All meals and morning/afternoon shared game drives are included. PLEASE NOTE: For guests arriving by road, the cash entrance fee of R180 per adult and R80 per child younger than 12 years (subject to change) to enter the reserve is NOT included. For guests arriving and/or departing via FedAir, the landing/departure fees are not included and are payable directly to the lodge (currently R240 per adult and R150 per child).
Children of any age are welcome. Rates available on request.
General Information For Guests
A private Land Rover can be pre-booked, subject to availability. This will be an additional cost - rates available on request Current rate: R4500 per vehicle per day, (subject to change).
Directions
SUGGESTION: Refuel at Sun Village/Zeerust as there is no fuel available inside the reserve.
From Johannesburg Airport via N4 tar road: Follow the R21 north, to Pretoria (Tshwane) through Kempton Park. After 40 km follow N1 north to Pretoria (Tshwane), Pietersburg (Polokwane). After about 12 km, take N4 west into Pretoria (Tshwane), to Rustenburg or Hartebeespoort Dam. Follow the N4 to Hartebeespoort Dam.
Take the N4 to Zeerust past Brits, Rustenberg, and Swartruggens. Zeerust is approximately 220 km from Pretoria. In Zeerust turn right on the R47/R49 to Gaborone/Madikwe Game Reserve. Take the N4 to Zeerust past Brits, Rustenberg, and Swartruggens. Zeerust is approximately 220 km from Pretoria. In Zeerust turn right on the R47/R49 to Gaborone/Madikwe Game Reserve. After +/- 90 km you will see a sign on the right for the Abjaterskop Gate of the Madikwe Game Reserve.
Continue on this road past the Abjaterskop Gate for 7 km. You will find a small thatched gate (Wonderboom Gate) on the right into the reserve - turn in here. You will have to pay a cash entrance fee of R150 per adult and R100 per child (subject to change) to enter the reserve.
Once you are in the reserve, follow the signs to the lodge. Allow between 20-30 minutes to drive from the gate to the lodge.
Do not get out of your car until you reach the lodge. You may see some wildlife on your way - if you do, slow down and maintain a good distance. Do not drive off-road in any circumstances.
From Sun City via N4 tar road: Turn right from as you leave Sun City onto the R565. After a few km you will come to a junction with the R565 to the left, and the R556 signposted straight ahead. Turn left here to keep on the R565 signposted Phokeng and Rustenberg, and it is 38 km from here to the junction with the N4 tar road.
When you reach the N4, turn right onto the road (signposted Swartruggens and Zeerust) and continue for around 130 km on this road to Zeerust. In Zeerust turn right on the R47/R49 and follow the directions as above.
From Johannesburg or Sun City via gravel roads: There is a gravel road from Sun City to Madikwe - this route is a lot shorter than the current tar road route, however as the roads are gravel and the signs to Madikwe are rather inconsistent, we would not really recommend this route to customers.
Should you wish to return to Sun City or Johannesburg using the gravel roads, the lodge will be able to supply you with a map and directions.
Popular Alternatives to The Bush House
These are the top properties booked by people who considered staying at The Bush House, but for one reason or another booked a different property. It may have been that The Bush House was not available on the nights they wanted to stay, or they decided that somewhere else was better suited to their budget or itinerary.
If you're not sure which place might be best for your own trip then either give us a call or get in touch via the website, and we'd be delighted to run through the options with you.
Add To Wishlist
Enquire Now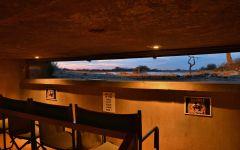 Location