The Stable Cottages
Addo Elephant National Park
Set in 4 hectares of expansive lawns, the Stable Cottages are only 8 km from the entrance to the Addo Elephant National Park.
The Addo Elephant National Park is one of the world's great conservation success stories and embraces one of the highest concentrations of big game in Africa and thus offers some wonderful game viewing opportunities.
In addition to the famous elephants of Addo there are also lion, buffalo, black rhino, hyena, jackal and a variety of antelope species. Of the smaller animals the surricates and the flightless dung beetle are of great interest. Over 150 species of birds have been recorded in the area.
Morning and afternoon guided game drives into Addo can be arranged (at an extra cost), otherwise guests staying here can easily drive themselves into the Park.
When not exploring Addo, in front of the cottages is a large swimming pool, as well as the trendy Wine Bar and Farm Cafe where guests have their meals. The Wine Bar and Farm Cafe has (as the name implies) a fabulous wine selection - the menu is a la carte, serving great contemporary country cuisine for lunch and dinner.
The very spacious Cape Country style cottages all have reeded ceilings and private verandah. Two of them are family suites with a separate interleading bedroom for the children.
All the cottages are fully air-conditioned and heated and have stocked mini bars and tea/coffee making facilities.
The Cottages really are great value for money, offering comfort, style and plenty of space.
Show Rates in
Our standard rates for a Stable Cottage
Dates
Price
Basis
Rate Name
Nights

1 May 2016

to

30 September 2016

GBP

£

30

US$ 43

ZAR 645

EUR 38

pps
Standard Rate
1+ nights

1 October 2016

to

30 April 2017

GBP

£

41

US$ 59

ZAR 890

EUR 52

pps
Standard Rate
1+ nights

1 May 2017

to

14 September 2017

GBP

£

33

US$ 48

ZAR 720

EUR 42

pps
Standard Rate
1+ nights

15 September 2017

to

30 April 2018

GBP

£

44

US$ 64

ZAR 965

EUR 57

pps
Standard Rate
1+ nights
Prices are on a per person sharing basis (pps).
Special offers for longer stays or when booked as part of a longer itinerary may apply - details on request.
---
Breakfast is included. Guided game drives into the Addo Elephant National Park are available at a cost of ZAR 900 per person per drive (pre-booking is esential, and cost is payable directly to The Stable Cottages - subject to change).
Children of any age are welcome. Rates available on request.
Directions
From The Garden Route/Port Elizabeth: Take the N2 from direction Cape Town/Plett/Knysna towards PE/Grahamstow n . Turn off the N2 onto the R335 (signposted Motherwell/Markman and there is also a sign right after this sign for the Addo Elephant Park). Travel approximately 50 km to Addo village. Continue through the village on the R335 in direction of Park and cross the railway line, once railway line crossed travel for a further 4 km (you will pass a crocodile ranch on the left-hand side). You will see a sign for The Elephant House on your left-hand side right after this and clearly signposted - turn in here and you will see The Stable Cottages.
From Grahamstown: Take the N2 towards Port Elizabeth/Plett/Knysna/Cape Town. Turn right onto a dirt road towards the Shamwari Game Reserve. You will see the Shamwari boards on the N2. Go past Shamwari (entrance on your right) and continue along the gravel road until Paterson. Take the R342 towards Addo, and approximately 25 km along the road you will see the Addo Elephant Park turn-off on your left. Continue past Addo park and you will see a sign for The Elephant House on your right-hand side clearly signposted - turn in here and you will see The Stable Cottages. Note that the R342 eventually changes into the R335 if you carry on straight with this road.
The Stable Cottages Map
This map was supplied by The Stable Cottages.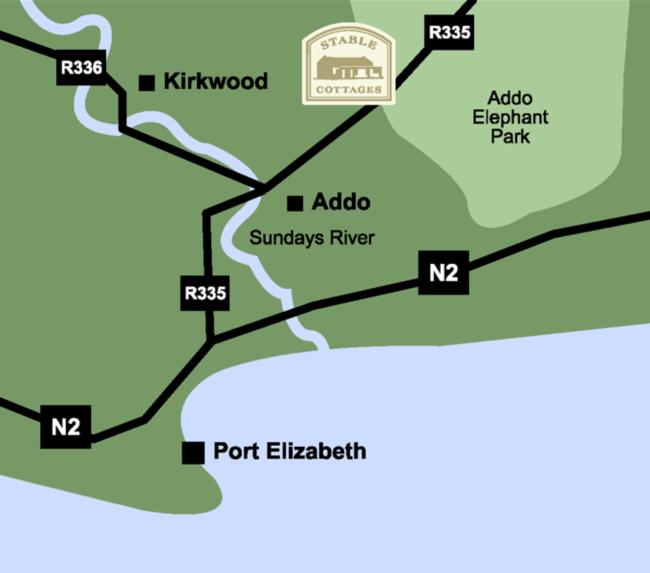 Popular Alternatives to The Stable Cottages
These are the top properties booked by people who considered staying at The Stable Cottages, but for one reason or another booked a different property. It may have been that The Stable Cottages was not available on the nights they wanted to stay, or they decided that somewhere else was better suited to their budget or itinerary.
If you're not sure which place might be best for your own trip then either give us a call or get in touch via the website, and we'd be delighted to run through the options with you.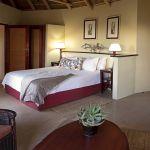 Safari Lodge
Guest Rating: 4.0 / 5.0 based on 1 ratings
All of the 24 en-suite and air-conditioned private chalets are beautifully furnished and fully equipped to ensure your absolute comfort. Relax on your own private patio, star gazing and listening to the sound of the bush settling for the night.
Prices on request.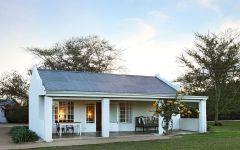 Location
Guest Photos