Jaci's Tree Lodge
Madikwe Game Reserve
Jaci's Tree Lodge is situated in the malaria-free Madikwe Game Reserve, which boasts 75,000 hectares of Big 5 game viewing territory. The reserve is also home to wild dog, cheetah, plains game including gemsbok, springbok, zebra and giraffe, and over 340 species of birds.
The interiors of Jaci's Tree Lodge proudly showcases the vibrant colours and unique crafts found in Southern Africa. This is a truly African lodge, enhanced by a superior personal service and a very intimate safari experience.
The spacious open-plan main building at the lodge includes a magnificent bar and lounge area separate from the dining area by a 4 sided open fireplace. There is a swimming pool for guest's enjoyment. Raised wooden walkways, suspended in the forest canopy lining the banks of the Marico River, link the guest rooms to the main lodge.
Aside from the superb accommodation, the early morning and evening game drives and bush walks will be the highlight of your stay.
Jaci's Tree Lodge has 8 luxurious 'Tree Houses', each encompassing a giant tamboti or leadwood tree.
Each 'Tree House' is constructed on stilts, up to 6 meters above the ground. An open plan bathroom with an enormous stone bath and outdoor 'Jungle Shower' allow you to enjoy your forest surrounds.
Silk cushions and suede beanbags invite you to lie on the deck to admire the stars or curl up in front of your fireplace.
Add To Wishlist
Enquire Now
Show Rates in
Our standard rates for a Luxury Tree House
Dates
Price
Basis
Rate Name
Nights
6 January 2017 to 30 April 2017
GBP £ 412 US$ 492 ZAR 6,585 EUR 465
pps
Standard Rate
1+ nights
1 May 2017 to 30 June 2017
GBP £ 265 US$ 316 ZAR 4,235 EUR 299
pps
Standard Rate
1+ nights
1 July 2017 to 18 December 2017
GBP £ 412 US$ 492 ZAR 6,585 EUR 465
pps
Standard Rate
1+ nights
19 December 2017 to 5 January 2018
GBP £ 470 US$ 562 ZAR 7,525 EUR 531
pps
Standard Rate
1+ nights
Prices are on a per person sharing basis (pps).
Special offers for longer stays or when booked as part of a longer itinerary may apply - details on request.
---
All meals; teas; shared game drives/walks; "jungle drive" for kiddies; and child-minding are included (plus from from 06 January 2017 all local branded drinks too). PLEASE NOTE: If you would like lunch on day of arrival this will be an additional cost. IN ADDITION: All other drinks are NOT included. For guests arriving by road, the cash entrance fee of R180 per adult and R80 per child younger than 12 years (subject to change) to enter the reserve is also not included. For guests arriving and/or departing via FedAir, the landing/departure fees are not included and are payable directly to the lodge (currently R240 per adult and R150 per child).

Children of any age are welcome. Rates available on request. Children aged 4 years and under are specially accommodated with their own game activities. Children under 12 are not allowed on bush walks. Early evening meals for all children under 12 years are provided. Babysitting services are available.
Guest Rating: 4.5 / 5.0 based on 2 ratings
Overall the staff at Jaci's were very attentive and obliging. The Fed Air pilots were also very friendly and accommodated our son sitting in the pilot's seat which really made the holiday for him.
T GATAWA
General Information For Guests
A private Land Rover can be pre-booked, subject to availability. This will be an additional cost - rates available on request.
Typical Summer Schedule: ::5 am - 6 am - Wake up call, cereals, rusks, tea and coffee in the dining room - thereafter depart on morning activity.::9 am - 10 am- A selection of fresh fruit, yoghurt, homemade mueslis, a wild varied bush breakfast will be served in the dining room.::1 pm - 2 pm - A light lunch will see you through the summer heat, followed by a selection of fine South African cheeses.::4 pm - 4.30 pm - Afternoon tea, a selection of fine teas, filter coffee, fruit juice, sweet or savory snacks - thereafter depart on afternoon drive. The afternoon drive includes a sundowner stop and a night drive.::8 pm - 9 pm - Pre-dinner drinks and snacks served in the boma or bush bar.::9 pm - 10 pm - Dinner, consisting of a starter, fire cooked main meal, dessert, tea or coffee and liqueurs if desired, will be served in the boma or dining room.
Typical Winter Schedule: ::6 am - 7.30 am - Early morning wake up call. Coffee / tea with rusks and light cereals before early morning game drive. ::On game drive your Guide will close down for coffee / tea break. ::10.30 am - 12.30 pm - Brunch served after return to the Lodge after a game drive of 3-4 hours. ::2.30 pm - 3.30 pm - You are then left to your own devices till High Tea at 2.30 pm after which you depart on game drive for about 4 hours. On game drive you will close down for sundowners and light snacks. ::7 pm - 7.30 pm - On return to the Lodge there will be time to freshen up and have a drink at the Bar prior to dinner in the boma or dining room.
Directions
SUGGESTION: Refuel at Sun Village/Zeerust as there is no fuel available inside the reserve.
From Johannesburg Airport: Watch out for the sign saying R21 Pretoria/Kempton Park. It is on the left, and the turning is soon after leaving the Airport, so keep a sharp lookout. Follow the signs to Pretoria and N1 Pietersberg.
After approximately 36 km you will see big signs over the highway - follow the direction N1 Pietersberg - you are now travelling in a northerly direction - and proceed for quite a while. You will see signs for a toll road called Bakwenya Platinum Highway N4 Rustenberg. Take this toll road. Once on the N4 continue in the Rustenberg direction – take Exit 225 which is the R556 Sun City/Majakaneng. Turn right at the top of the off ramp to Sun City and continue straight to Sun City (it is approximately 73 km to Sun City from this off ramp).
After passing Sun City on the right, continue straight until you reach a 4-way junction. Turn right to *Derdepoort. Follow the road for approximately 8 km, and turn left at the sign saying *Bapong. Continue straight along this road (ignoring ALL signs saying Madikwe etc). After passing through Mabeskraal you will come to a 4-way stop – turn right to *Derdepoort.
After about 25 km the tar road ends and becomes gravel/dirt. The Dwarsberg Liquor Store is on your left, and continue straight along the gravel road towards Molatedi Village (do not take the next Derdepoort turning to the right, but continue straight). Pass through the Molatedi village, go over the Marico River and enter the reserve via the Molatedi Gate.
You will have to pay a cash entrance fee of R150 per adult and R100 per child (subject to change) to enter the reserve.
Once you are in the reserve, follow the signs to the lodge. Allow about 20-30 minutes to drive from the gate to the lodge.
Do not get out of your car until you reach the lodge. You may see some wildlife on your way - if you do, slow down and maintain a good distance. Do not drive off-road in any circumstances.
Please contact the Lodge on the following numbers to advise when you have passed Sun City : 083 700 2071 or 083 447 7929 or 014 778 9900.
*There are brown Jaci's Safari Lodge/Jaci's Tree Lodge and Madikwe Game Reserve signs at these points.: : From Sun City: Turn right out of the reserve, and follow the directions as above.
Jaci's Tree Lodge Map
This map was supplied by Jaci's Tree Lodge.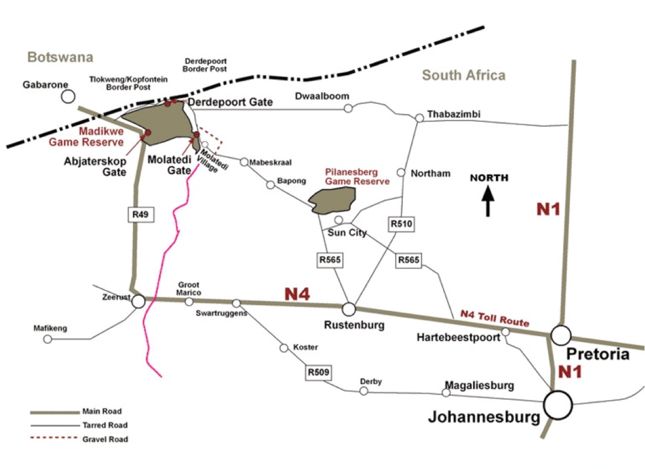 Popular Alternatives to Jaci's Tree Lodge
These are the top properties booked by people who considered staying at Jaci's Tree Lodge, but for one reason or another booked a different property. It may have been that Jaci's Tree Lodge was not available on the nights they wanted to stay, or they decided that somewhere else was better suited to their budget or itinerary.
If you're not sure which place might be best for your own trip then either give us a call or get in touch via the website, and we'd be delighted to run through the options with you.
Add To Wishlist
Enquire Now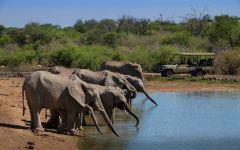 Location