Best Kruger Honeymoon Places
The most romantic lodges for a honeymoon in Kruger
Not only is the Greater Kruger National Park the premier safari destination is South Africa, it is also indisputable one of the best places in the world to see big game (especially predators) in the wild.
Kruger is home to some of Africa's finest and most romantic safari lodges – places that offer a standard of food, accommodation, and service that is on a par with the best to be found anywhere in the world. Even without the wildlife they would still be world class destinations.
Below are a few of our favouite Kruger Park safari lodges for Honeymooners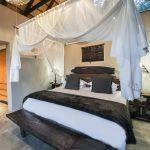 Safari Lodge
Guest Rating: 5.0 / 5.0 based on 3 ratings
The lodge has 3 standard chalets overlooking the Olifants River. Each standard chalet has been beautifully decorated with an African theme, and all have en-suite bathrooms (with a shower overlooking the river), air-conditioning, mosquito nets and a wooden deck.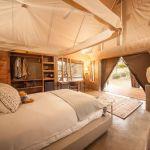 The accommodation at Garonga Safari Camp reflects the surroundings of the bush - textured earthy colours and clean lines have been incorporated with fine linen to ensure pure comfort The 6 spacious tented luxury double suites, with canvas roofs, are situated on a dry riverbed - each with a wooden deck that commands spectacular views. The en-suite bathroom has an indoor as well as an outdoor shower for those wanting to get closer to nature.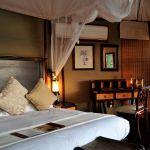 The accommodation comprises of 6 luxury double tents. Each has a romantic slipper bath and outdoor shower overlooking the Ngwenyeni Dam, as well as a private veranda, open tented lounge, and a secluded swimming pool.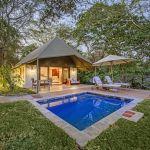 Safari Lodge
Guest Rating: 5.0 / 5.0 based on 1 ratings
Savanna has 4 luxury tented suites and 3 spacious executive tented suites. Rustic reed blinds, coir carpets, a draped canvas ceiling and built in lounge area all combine to create the most luxurious tents in Africa.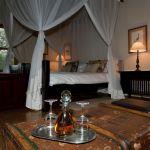 This intimate camp has just 8 luxury thatched suites, each with a full bathroom en-suite and private alfresco shower. The camp's premier accommodation is the sumptuous and spacious Ivory Presidential Suite, which offers colonial grandeur and a private pool and safaris.
Loading...