Idwala Lodge
Lalibela Game Reserve
Idwala Lodge, meaning 'Place of the Rock', is set on a rocky outcrop and boasts wonderful vistas of the surrounding hills. With traversing rights over the neighbouring 7,500 hectare malaria-free Lalibela Game Reserve, the lodge offers traditional game lodge accommodation with authentic African decor and a relaxed and informal atmosphere in the heart of the Eastern Cape.
The Lalibela Game Reserve offers a Big 5 game viewing experience, and other large mammals found on the reserve include hippo, giraffe, zebra, warthog and numerous species of antelope such as eland, kudu, bushbuck and wildebeest.
Early morning and sunset game drives in an open vehicle with an experienced game ranger bring you face to face with a multitude of game species.
The food is true safari cuisine with an emphasis on local specialities, ranging from centuries-old recipes to contemporary African dishes.
Idwala consists of just 4 rooms, sleeping a maximum of 8 guests. The decor is infused with the essence of Africa, and a feature of Idwala is the use of natural rock with thatch.
The rooms have been placed in positions to give guests the feeling of being right in the bush, and the views from the private decks and bathrooms are spectacular.
Raised walkways also bring guests into close contact with nature.
All meals, tea/coffee, soft drinks, house wines (excluding premium wines), local beers and spirits (excluding premium spirits) and 2 daily shared game drives with refreshments are included.
Children aged 8 years and older are welcome. Rates available on request. Children under the age of 12 may go on game drives at the sole discretion of the Lodge Manager.
Guest Rating: 5.0 / 5.0 based on 3 ratings
The arrangement of the trip by Anneli was so smooth and made the whole experience very relaxing Idwala Lodge was also a brilliant choice. The Staff, food, service and accommodation were excellent and the safaris were great. Little touches like having a sunset drink on the evening safari and a hot chocolate the minute you arrived back at the Lodge made you feel pampered and gave everything a 5* experience.
R SMITHER
Idwala Lodge was unbelievable - couldn't have asked for better!! Great location, great staff and great ranger who really put so much effort in so that we saw most of the animals on the reserve. My most memorable part of the 2 week trip! Thanks again for all your help with it.
B O'SULLIVAN
We have just returned from a great holiday in SA and thought you may want to have a brief set of feedback comments. We enjoyed ourselves tremendously and everything you had booked for us worked like clockwork - so thank you for that. Idwala was superb. As a small family run operation, it is highly professional and warmly hospitable at the same time. They made our kids feel extremely comfortable - not easy when there are only 8 guests at any time and the other paying guests don't always want children around. The accommodation was authentic and extremely comfortable and the food of a very high standard (no pretension and very well executed). As for the game drives; wow. Our ranger, son of the owners, was fantastically knowledgeable and personable. We would go back in a flash.
S Economides
General Information For Guests
The lodge has a large lounge, viewing deck and a sunny swimming pool where you can spend a lazy afternoon. The lodge also have an outdoor dining 'boma' for fireside dinners and open-air brunches, as well as a stylish indoor dining area.
Directions
From Port Elizabeth: Follow the N2 to Grahamstown. After about 51km, you will come to a junction, keep left and follow the signs for Grahamstown. Shortly after youíve crossed the Bushmanís River, you will notice a turn off for Sidbury to your left. Drive along the road for 7 km until you see the sign for IDWALA LODGE on your right. Follow the road until you see the house and Reception area where someone from the lodge will be waiting to meet you.
Idwala Lodge Map
This map was supplied by Idwala Lodge.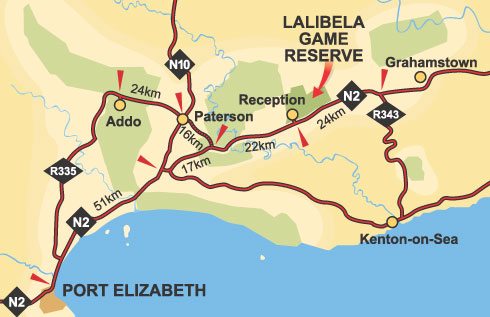 Popular Alternatives to Idwala Lodge
These are the top properties booked by people who considered staying at Idwala Lodge, but for one reason or another booked a different property. It may have been that Idwala Lodge was not available on the nights they wanted to stay, or they decided that somewhere else was better suited to their budget or itinerary.
If you're not sure which place might be best for your own trip then either give us a call or get in touch via the website, and we'd be delighted to run through the options with you.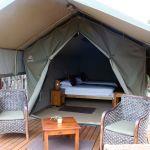 Safari Lodge
Guest Rating: 4.4 / 5.0 based on 22 ratings
Woodbury Tented Camp is set in the heart of the reserve, and the tranquil surroundings of the open bushveld allow you to truly experience a quiet getaway. The centre of the camp is an airy, thatched entertainment area, where you can soak up the African sun.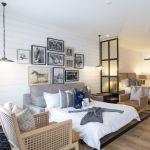 Safari Lodge
Guest Rating: 4.5 / 5.0 based on 13 ratings
Each of the 9 twin-bedded rooms are fully air-conditioned, and have a television and telephone, and a small lounge area. Private balconies from each room leads onto the beautifully landscaped gardens.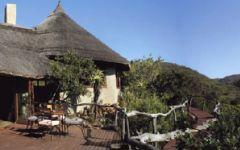 Location
Guest Photos