Giant's Castle Lodge
The Drakensberg
A proclaimed protected area since 1904, Giant's Castle is 34,638 hectares in the central Berg region. Situated on the grassy plateaux among deep valleys below the sheer rock face of the High Drakensberg, this famous reserve offers glorious views.
Themed to the wild flowers of the Drakensberg mountains, each unit has been named after a plant family, and contains original art works of berg flowers by local artists. All units are self catering, though there is an option of the restaurant which offers a selection of buffet or a la carte meals.
Accommodation only - no meals are included. BB and DBB package rates are available on request.
Children of any age are welcome. Rates available on request.
General Information For Guests
Gate Entry times: Summer (1 October - 31 March) 5 am to 7 pm; Winter: (1 April - 30 Sept) 6 am to 6 pm.
Visitors are requested to contact the Camp to arrange for a late entry (there will be an additional charge levied).
Distance and time from Gate to Camp: 7 km / 20 minutes.
Reception Hours: The office and shop are open from 8 am to 6 pm from Monday to Saturday and from 8 am to 4 pm on Sunday
It is suggested that you bring a torch.
The shop sells a wide range of curios and supplies.
The camp has been extensively upgraded and extended and now includes a restaurant and pub.
Special Precautions: The weather is subject to change at short notice and hikers must be well equipped as it can get extremely cold. Hikers must also fill in their details in the Mountain Rescue Register before proceeding on a hike.
The nearest town which has a full range of services is Estcourt which is 65 km away.
Directions
From the North: Turn off the N3 into Estcourt. At the intersection of Conner and Lorne streets turn on to the Ntabamhlope road and follow the signs to Giants Castle.
From the South: Turn off the N3 into Mooi River, go through the town and follow the Giants Castle signs to the reserve 64 km away.
Giant's Castle Lodge Map
This map was supplied by Giant's Castle Lodge.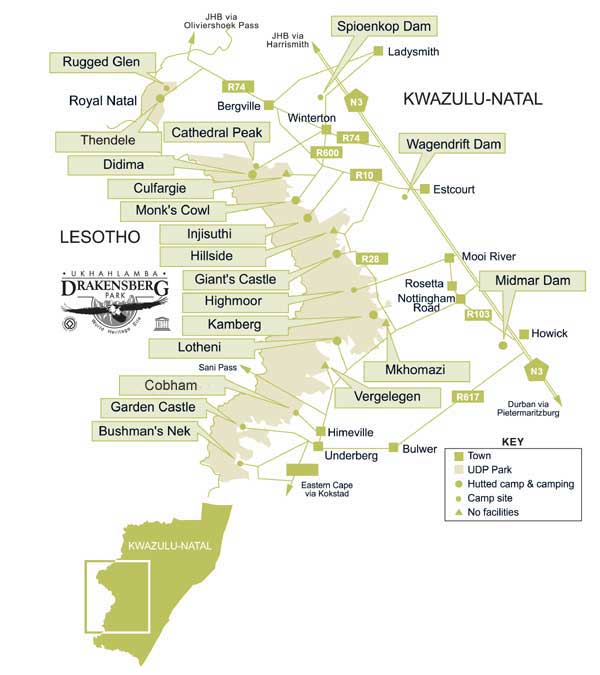 Popular Alternatives to Giant's Castle Lodge
These are the top properties booked by people who considered staying at Giant's Castle Lodge, but for one reason or another booked a different property. It may have been that Giant's Castle Lodge was not available on the nights they wanted to stay, or they decided that somewhere else was better suited to their budget or itinerary.
If you're not sure which place might be best for your own trip then either give us a call or get in touch via the website, and we'd be delighted to run through the options with you.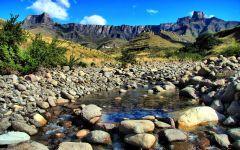 Location
Guest Photos